SUNDAY
Truffled Filet of Beef Sandwiches  |  California Sparkling Wine
MONDAY
Roast Chicken with Rosemary, Lemon & Honey  |  Oven-Roasted Red Potatoes  |  Garlicky Greens
TUESDAY
Boston Baked Beans  |  Boston Brown Bread
WEDNESDAY
Butternut Squash & Apple Soup with Melted Bleu Cheese  |  Chicken Salad
THURSDAY
 Risotto with Mushrooms  
FRIDAY
Real Meatballs & Spaghetti  |  Caesar Salad
 SUNDAY  |
HAPPY 24th ANNIVERSARY!  Well, yes, today IS my wedding anniversary…twenty-four years ago today Michael & I said "I Do" and so began our wild adventure.  For the last three years, a major horse show has fallen on our anniversary weekend, leaving Michael & I to (happily) select a special "celebration" date elsewhere on the calendar.  As a young couple,  celebrating our first wedding anniversary in Paris years ago,  I could never have predicted the crazy, awesome, journey 24 years would bring.  All those years & three children later, I am astounded with the depth of love we share & so very grateful that we are partners in this enterprise known as "our family".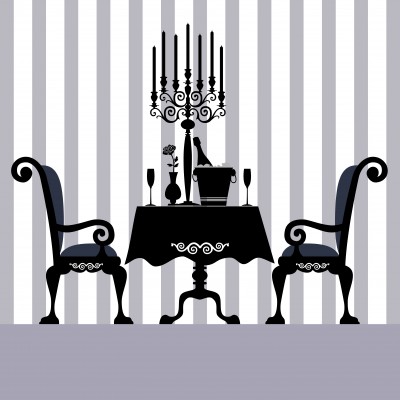 This year, I am fortunate to be returning home with Madison from the show to enjoy a family anniversary dinner.  We are dripping with dust & horse hair and completely exhausted (we have been sleeping in our horse trailer for the last three nights).  A hot shower, a clean outfit and sinking into a comfortable chair at a dining table set with white linen napkins, candles & flowers…absolute perfection for this evening!  Tonight's dinner may be sandwiches but the filet mignon, truffle butter & sparkling wine make this dish worthy of a celebration!  Follow Ina Garten's recipe to the letter…it produces a perfect filet mignon.  We always purchase a roast that is slightly larger than we need & then take the leftover portion of the filet and slice it on our deli slicer…the super-thin slices of filet mignon make wonderful roast beef sandwiches for the children's school lunches (better than anything you will get at a grocer's deli!).  Prepared black truffle butter can be found at specialty markets or you can make your own by adding black truffle oil to room temperature butter and vigorously blending to a spread-like consistency.  The sparkling wine we chose was from J in Sonoma County…a dry, light champagne-style wine that paired well with our over-the-top picnic sandwich dinner!
MONDAY  |
In my absence this weekend, Michael ran to the market and picked up a few staples, namely whole roaster chickens and ground beef…so that is where the dinner plan this week begins.  Tonight is our FAVORITE roast chicken recipe - Roast Chicken with Rosemary, Lemon & Honey.  This recipe appeared on our dinner menu two weeks ago & it will make a regular comeback…it is our family's go-to roast chicken dinner.  The marinade of olive oil, lemon & honey truly makes for succulent chicken meat.  The leftovers contribute to a wonderful chicken sandwich or salad & the bones render a wonderful stock. (Note:  I roasted a third chicken this week to ensure plenty of leftover meat for the chicken salad I want to prepare later in the week).  I will be needing a generous portion of chicken stock for the risotto later in the week.  For the oven-roasted potatoes:
Oven-Roasted New Potatoes
12-14 small new (red) potatoes, washed, dried & quartered
2-3 tablespoons extra-virgin olive oil
Coarse sea salt & freshly ground black pepper, to taste
Put cut potatoes in a large mixing bowl and toss with the olive oil.  Season with salt & pepper, mixing well.  Place mixture in a baking dish or jelly roll pan (large enough to hold the potato mixture in a single layer) coated with non-stick cooking spray.   Bake in a 350 degree oven for one hour, tossing occasionally.  (I always try and save some roasted potatoes for breakfast the following morning…they are wonderful reheated in a skillet alongside some scrambled eggs).

Note:  If you are planning on using homemade Chicken Stock  in the Risotto recipe coming up on Thursday, be sure to save the chicken carcasses in resealable plastic bags (together with any giblets that may have come inside the roasters).  Since beans will be in the slow cooker for most of the day tomorrow, it is a great opportunity to make a batch of this wonderful elixir!
TUESDAY  |
Michael left before dawn this morning for meetings in Los Angeles and won't be home until tomorrow night.  He is not a fan of beans but the kids and I are so we take this opportunity to indulge in his absence.  I grew up in New England so Boston Baked Beans & Brown Bread were a dinner staple…but, here in California, not so much.  Start the beans the night before & you will have an easy dinner preparation.  This is a one-bowl meal, served with a slice of warm, buttered brown bread…comfort food at its best.  Hint:  a warm slice of the brown bread also tastes wonderful with a scoop of vanilla (or pumpkin) ice cream!
WEDNESDAY  |
Fall has arrived in Belvedere (at least for the moment)…the sunny, warm afternoons yield to very cool evenings and the light of dusk fades earlier each day.  What a difference from last week when I made this Butternut Squash & Apple Soup with Melted Bleu Cheese and it was too hot out to eat soup!  I took this reserved soup out of the freezer last night and placed it in my slow-cooker on low this morning.  An easy dinner is always appreciated on Wednesdays as that is when Mallory has one of her weekly riding lessons after school & we don't get home until 6:30.  Michael should be home from the airport by 7:30 so soup & a salad are perfect for tonight's later dinner.  I had plenty of leftover roast chicken from Monday night's dinner so a chicken salad worked perfectly!  In this simple chicken salad, the tartness of the green apples balances the sweetness of the dried cranberries.  Homemade Mayonnaise really makes such a difference (as I have said before).  You will find that by using leftover meat from a roasted chicken (especially the roasted version we had on Monday night, rich in flavors from the rosemary, honey & lemon) there is quite a bit more flavor than if you were using poached breast meat.  With this in mind, taste the salad before adding any salt, pepper or other seasonings.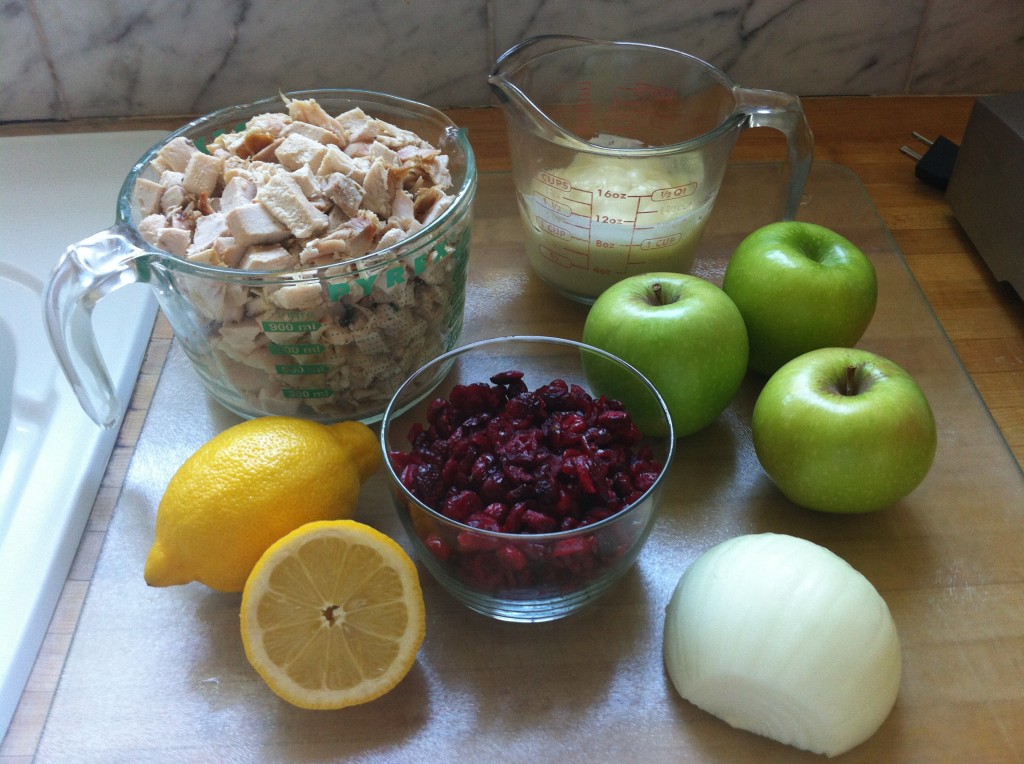 Chicken Salad
(Serves 5…with some leftovers for sandwiches)
3 Granny Smith apples, cored & cubed (peels left on)
Juice from ½ of a large lemon
5 cups diced, cooked (roasted) chicken meat
½ chopped yellow onion
1 cup dried cranberries
½ cup Homemade Mayonnaise
Salt & Pepper, to taste
Butter lettuce leaves for serving
Place the cubed apple in a mixing bowl and add the lemon juice…toss to coat the apples completely (this will keep the apples from turning brown).
Pour off any lemon juice remaining at the bottom of the bowl & add next three ingredients…toss.
Add mayonnaise a bit at a time, mixing after each addition.  We all hate our chicken salad to be swimming in a pool of mayonnaise so we keep ours on the drier side…you can always add more.
Taste the salad at this point to see if additional seasoning is required.
Serve chicken salad atop a butter lettuce leaf.
You will find that, in pairing this soup & salad, the flavors of the squash, apple, bleu cheese & the cranberry complement each other so nicely!
THURSDAY  |
While the beans were roasting in my slow cooker on Tuesday, I whipped up a batch of homemade Chicken Stock using the bones leftover from Monday's roast chicken dinner. Even though I have a few bags of stock in the freezer from earlier batches I can't bring myself to throw away all of those lovely bones.  Risotto, in general, uses quite a bit of stock & with Fall/Winter on our heels I know I will use every drop of stock I continually make.  Homemade stock is so easy & it tastes a million times better than what you can get prepared off your grocer's shelf.  If you don't have time to make it during the week, simply put the bones in a resealable plastic bag and freeze until a day when you can let a pot of stock simmer all day on the stove…the house will smell amazing!
Risotto with Mushrooms
8-9 cups chicken stock
5 tablespoons unsalted butter at room temperature
1-2 tablespoons soy sauce
6 cloves garlic, minced
½ pound fresh white mushrooms, brushed clean & thinly sliced
½ pound assorted, fresh,wild mushrooms, brushed clean & thinly sliced
¼ cup extra-virgin olive oil
½ of a large yellow onion, chopped
3 cups Arborio rice
1 cup dry Vermouth
¼ freshly grated Parmesan cheese
Coarse sea salt & freshly ground pepper to taste
In a saucepan, bring the chicken stock to a simmer.  Remove from heat, cover & set aside.
Combine 3 tablespoons of the butter with the soy sauce in a food processor until blended.  (Soy butter can be made up to 2 days in advance…simply transfer soy butter to a small dish, cover & refrigerate).
In a large saute pan, heat the soy butter over medium heat.  Add the garlic and saute until softened, about 2 minutes.  Add all of the mushrooms and cook until softened, about 5 minutes.  Cover & set aside.
Return chicken stock to a slow simmer.  In a separate, large pot or dutch oven heat the olive oil over medium heat until it shimmers.  Add the onion and cook until softened, about 5 minutes.  Add the rice and stir until each grain is translucent with a white dot in the center, about 4 minutes.  Add the Vermouth and stir until it is completely absorbed.
Add the simmering stock to the rice, one ladleful at a time, stirring frequently after each addition.  Wait until the stock is almost completely absorbed (but the rice is never dry on top) before adding the next ladleful of stock.  Reserve ¼ of the stock to add at the end.
Cook the rice until it is still a bit al dente yet creamy, about 20 minutes & then add the mushroom mixture with a ladleful of stock.  Cook until the mushrooms are heated through, stirring constantly, about 2 minutes.  Remove from the heat & stir in the 2 tablespoons of plain unsalted butter as well as the reserved ¼ cup of chicken stock.  Season with salt & pepper.
Serve in individual bowls or plates and sprinkle with fresh Parmesan.
 This recipe was adapted from a recipe at Williams-Sonoma.com.
There are so many variations on "classic" Caesar Salad Dressing…we prefer ours not too creamy or heavy.  After years of tweaking several different recipes, this is our go-to version:
Classic Caesar Salad Dressing
1 large egg yolk
4 oil-packed anchovy filets, drained
2-3 garlic cloves, minced
2 tablespoons red wine vinegar
2 tablespoons freshly squeezed lemon juice
a pinch of cayenne pepper (optional)
½ cup extra-virgin olive oil
 Place all ingredients in a mixing bowl & blend with an immersion blender.
Pour the finished dressing into a glass jar with a tight-fitting lid and affix the printed recipe to the jar with some clear packing tape.  When you run out of dressing you can easily whip up another batch when needed with the recipe on hand.  These labels stand up to 1-2 dishwasher cycles.  (Whoops!…excuse the misspelling of "Caesar" in the picture below)…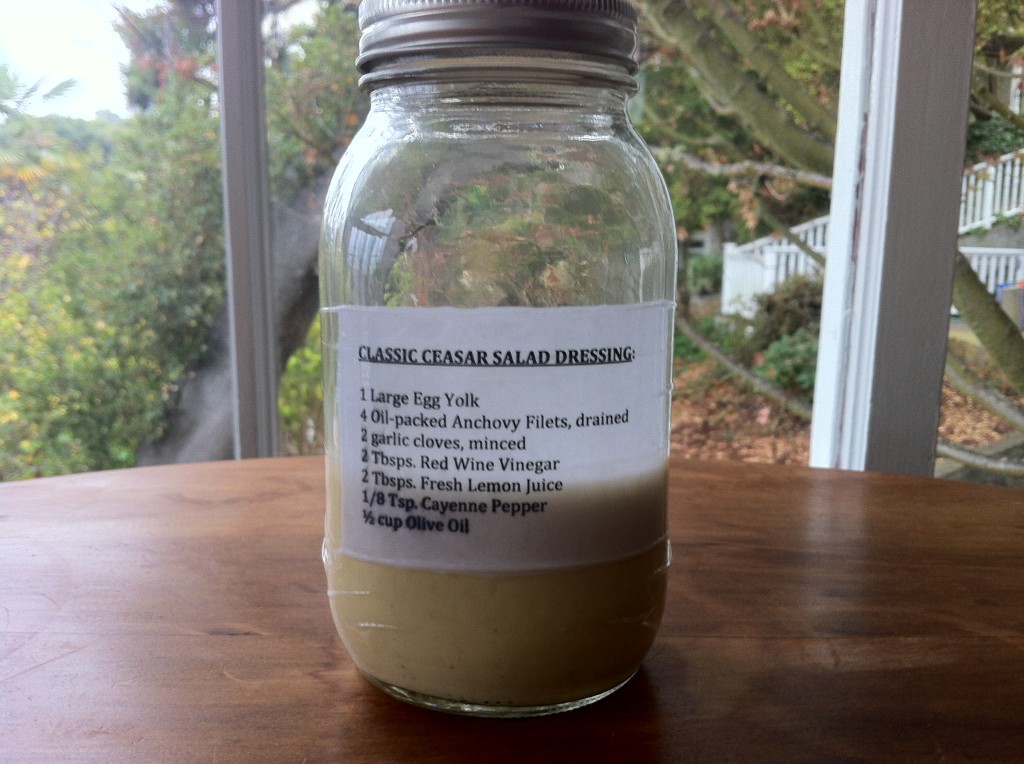 Wash, dry and coarsely chop some Romaine lettuce and put in a large bowl.  Add enough dressing to coat the lettuce leaves (NOT drown them) & toss.  Add some fresh parmesan shavings and freshly ground black pepper to taste.  (Note:   It was raining this evening, Michael's ferry was late & we were all so tired…decided to skip the salad and just have  bowls of warm risotto in front of the fireplace.  We will save the dressing & the salad for tomorrow night's meatballs).
FRIDAY  |
We had one of our first rainfalls last night.  It was just a light shower but,  after months in-a-row of California sunshine, the soft sound of raindrops on the windows elicits such a sense of relief & peace for me.  We are all home early (it is now 5pm).  The sky has been gray all day & the water on the bay has been a bit choppy.  Tonight's Real Meatballs & Spaghetti  will nourish us body & soul...

Thanks for visiting!  Wishing everyone a wonderful weekend & Happy Dining!