SUNDAY
Perfect Roast Beef  |  Gravy  |  Whipped Potatoes  |  Fennel, Orange & Red Onion Salad
MONDAY
Roast Beef Sandwiches with Gravy & Simple Cranberry Sauce
TUESDAY
 Pumpkin Lasagne  |  Cranberry, Fig & Pinot Noir Chutney
WEDNESDAY
Slow Cooker Split Pea Soup  |    Rustic Bread with Balsamic Dip
THURSDAY
Spicy Oven-Fried Chicken |  Kale & Brussel Sprouts Salad
FRIDAY
Barbecue Baby Back Ribs  |  Oven Fries  |  Lagunitas Pale Ale
SUNDAY
Perfect Roast Beef  |  Gravy  |  Whipped Potatoes  |  Fennel, Orange & Red Onion Salad
After browning the roast on all sides in 3 tablespoons of butter I placed the meat on a roasting rack in the same pan.  I added 4 cups of a rich, homemade chicken stock to the pan and then placed the roast in the preheated oven.
When the roast is done,  remove the pan from the oven and place on a stovetop burner.  Transfer the roast to a cutting board & let rest for 10-15 minutes.  While the roast is resting, make the gravy…
Roast Beef Gravy
 Remove roasting rack from the pan and add a ½ bottle of a rich, hearty red wine (such as a zinfandel or even a ruby port) to the pan drippings.  Bring to a boil over medium heat.  In a separate, small bowl add equal parts room temperature butter & flour (I usually start with 3 tablespoons of each) and blend thoroughly.  Add butter/flour mixture (a tablespoon at a time) to gravy in pan, whisking constantly, until desired thickness for the gravy is reached.  The resulting gravy should be silky smooth & full of flavor from all of those pan drippings.
Whipped Potatoes
12 medium Yukon Gold potatoes, peeled
4-5 cups chicken stock (or water)
1 stick (8 tablespoons) unsalted butter, cubed
¼(+) cup half and half
¼ cup créme fraîche
salt & pepper to taste
Bring potatoes & stock (or water) to a boil over medium-high heat & continue to cook until potatoes are fork tender.  Remove pot from heat and drain potatoes.  Return potatoes to same pot and mash.  Add butter and cream & whip with a handheld mixer until smooth and creamy (adding more cream to achieve desired consistency).  You can use a potato masher here(instead of a mixer) if a more rustic, mashed consistency is desired.  Season with salt and pepper.
At this point the whipped potatoes are a blank canvas.  I kept my potatoes for this dinner simple because they were being topped by a rich gravy.   Here are a few ideas for additions to "jazz up" simple mashed potatoes:
minced shallot or chives
truffle oil
horseradish cream (great with prime rib)
crumbled bleu cheese or freshly grated parmesan cheese
Fennel, Orange & Red Onion Salad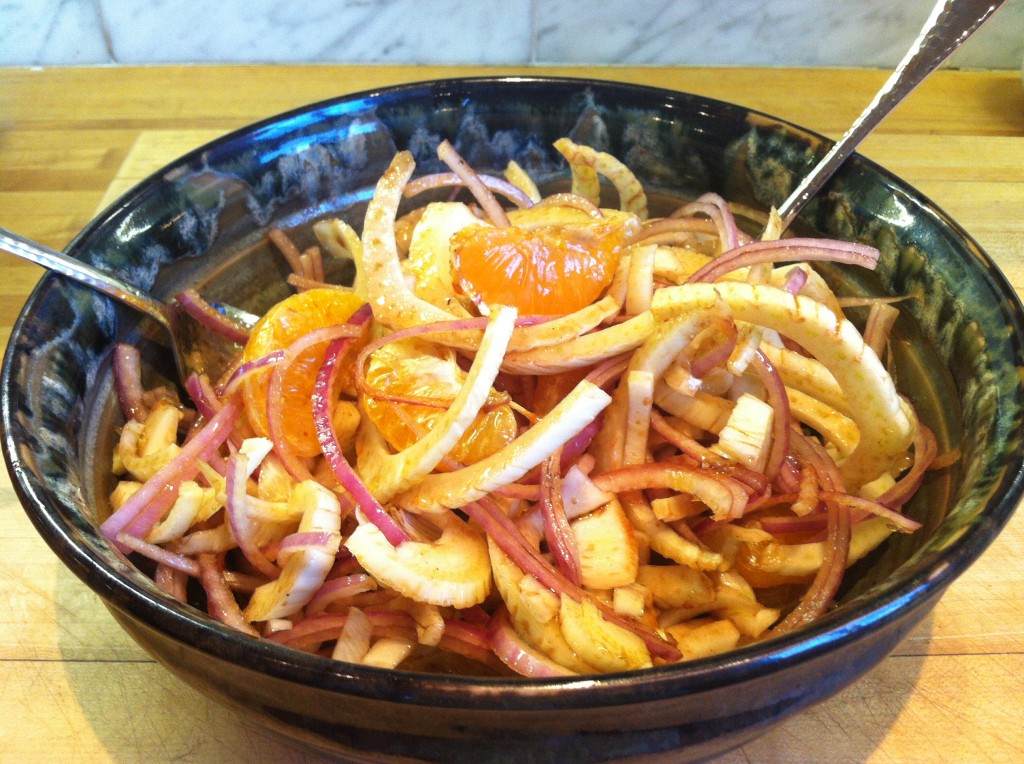 2 medium fennel bulbs
2 oranges
½ red onion
¼ cup olive oil
2 tablespoons balsamic vinegar
3 tablespoons finely chopped fresh chervil, arugula or parsley leaves
Trim the fennel bulbs, removing the stalks and any discolored pieces.  Cut into ¼ slices; set aside.
Peel the oranges, divide them into sections and remove the white pith.  Set aside 6 sections and cut the remainder in half; set aside.
Cut the onion into this slices; set aside.
Combine the juice of the 6 orange sections, the olive oil, vinegar and herbs to make a dressing.
Toss all salad ingredients with the dressing and let stand at room temperature for about 30 minutes.  Stir occasionally.  Serve.
[ This recipe is from The San Francisco Chronicle Cookbook, edited by Michael Bauer & Fran Irwin, copyright © 1997 Michael Bauer and Fran Irwin.  Published by Chronicle Books ]
♣  ♣  ♣
MONDAY
Roast Beef Sandwiches with Gravy & Simple Cranberry Sauce
I took the leftover top sirloin roast we made last night & put it on our deli slicer.  The most perfect rare roast beef…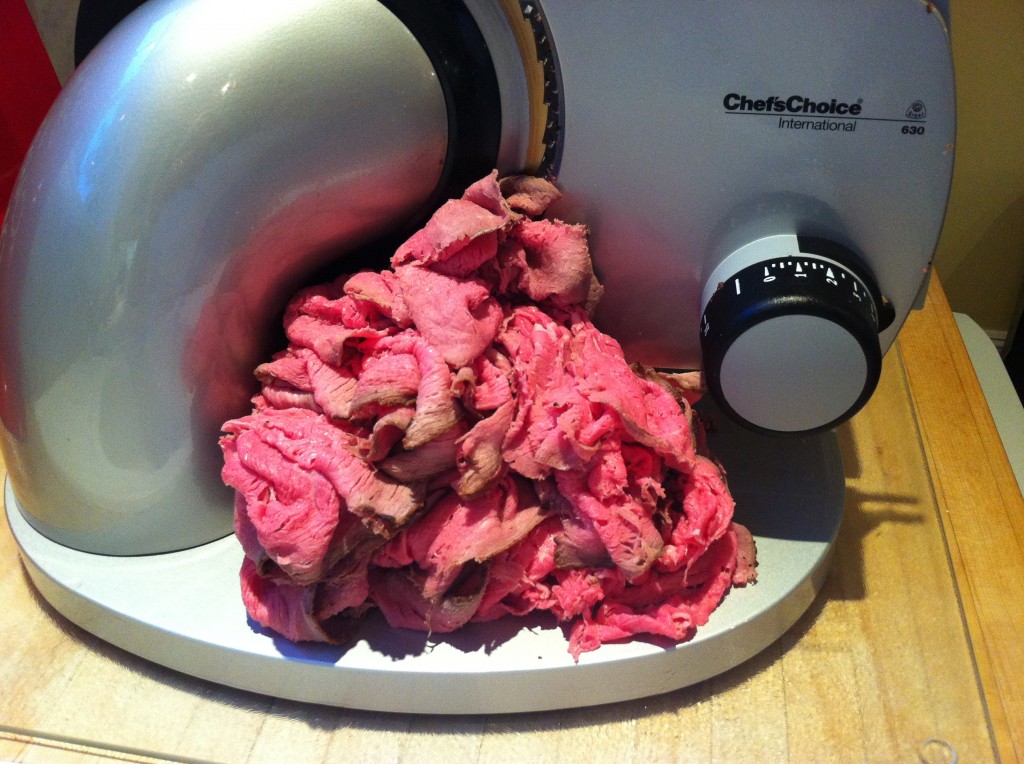 Simple Cranberry Sauce
I have been using cranberry sauce as a condiment for sandwiches since…well, as long as I can remember.  Yes, there is that wonderful day-after-Thanksgiving-sandwich topped with a spoonful of orange & nutmeg laced sauce.  But slightly sweetened tart cranberries are also a perfect topping to rich red meat as well.  I keep this sauce simple because the roasted meat has so much flavor!
1 cup sugar
1 cup water
12 oz. package fresh or frozen cranberries
Place all ingredients in a pot over medium heat & bring to a boil, stirring often.  After 2-3 minutes the cranberries will start to pop open.  Keep cooking & stirring until liquid is reduced and sauce begins to thicken slightly, approximately 8-10 minutes.  Remove from heat & cool.  The sauce will thicken as it cools.
Roast Beef Sandwiches
For these sandwiches I like using rustic rolls (you can use any type of crunchy roll).  I warm the rolls in the oven for 3-4 minutes and then remove & slice open.  The first layer of this handheld dinner is a generous pinch of baby arugula (the peppery flavor of arugula goes well with the roast beef).  Followed by 3-5 slices of freshly cut roast beef & a few slices of crisp red onion.  Next, a drizzle of gravy (reheated from last night's dinner) & a spoonful of cranberry sauce.  Enjoy!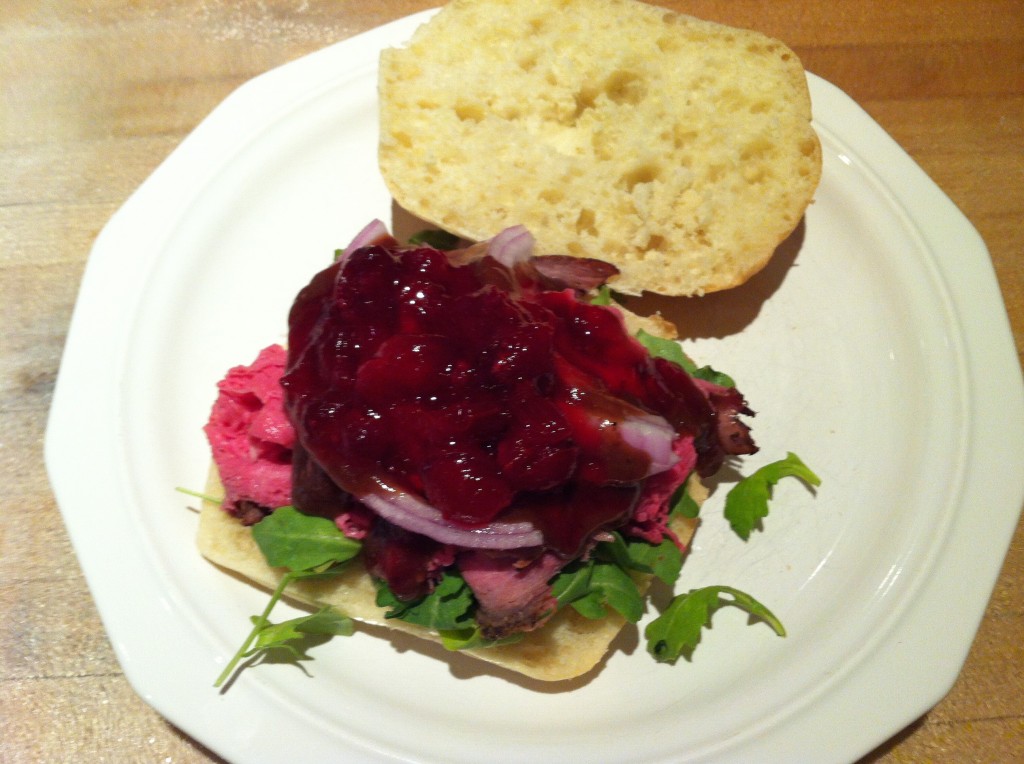 TODAY was an amazing day…take a look at Rainy Days & Mondays…
♣  ♣  ♣
TUESDAY    
Pumpkin Lasagne  |  Cranberry, Fig & Pinot Noir Chutney
[  Note:  Tomorrow night's Split Pea soup requires close to 12 hours in the slow cooker…start it tonight & enjoy an easy dinner tomorrow  ] 

Just a note:  I doubled the amount of parmesan cheese on top of the lasagne…perfection!
And for the Cranberry, Fig & Pinot Noir Chutney…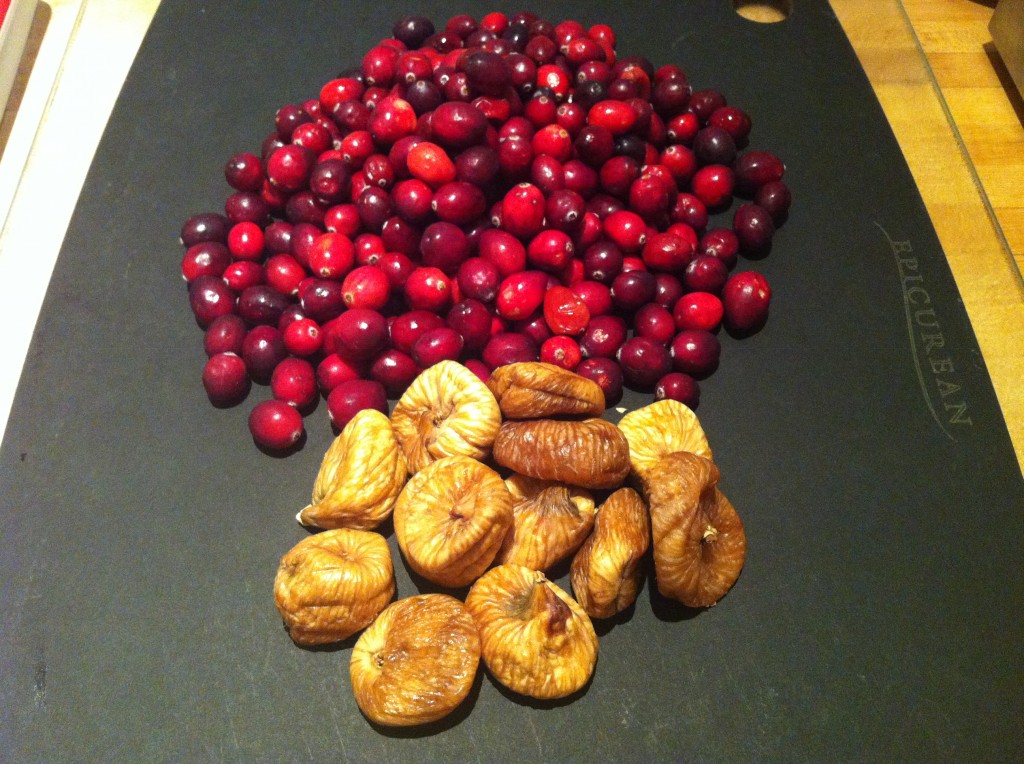 Follow the recipe exactly…it is a perfect side to the pumpkin lasagne!
♣  ♣  ♣
WEDNESDAY
Slow Cooker Split Pea Soup  |    Rustic Bread with Balsamic Dipping Sauce
[  NOTE:  Prep the buttermilk mixture for tomorrow night's oven-fried chicken this evening & let the chicken pieces marinate overnight  ]
 Slow Cooker Split Pea Soup
One meaty ham bone
16 oz. bag green split peas
2 tablespoons olive oil
2 medium yellow onions, peeled & coarsely chopped
4 large celery ribs, coarsely chopped
6 cloves garlic, minced
8 cups chicken broth
4-6 fresh thyme sprigs, tied in a bunch with kitchen string
6 large carrots, peeled & cut into one inch lengths
4 cups chopped roasted ham
In a large skillet (or the non-stick aluminum insert of your slow cooker) heat the olive oil, over medium heat,  until shimmering & then add the onions and the celery.  Cook until the onions start to become slightly translucent.  Add the garlic and cook until fragrant.
Remove skillet from heat and transfer onion mixture to slow cooker (if using the non-stick aluminum insert of your slow cooker, simply transfer insert from stovetop to slow cooker).  Add ham bone, split peas, broth & thyme bouquet.
Cover and cook on high for 7 hours, stirring occasionally.
Transfer ham bone to a cutting board.  Discard thyme bouquet.  With a handheld immersion blender, purée the soup in the slow cooker.  Add carrots, cover & continue to cook on low until carrots are tender, about 4 hours longer.
Meanwhile, remove meat from ham bone, cut into bite-size pieces & add to soup.  I also froze some reserved meat from our roast ham along with the ham bone which I have defrosted & cut up here… I will add this additional meat to the soup as well.  

Serve in individual bowls accompanied by torn slices of rustic bread.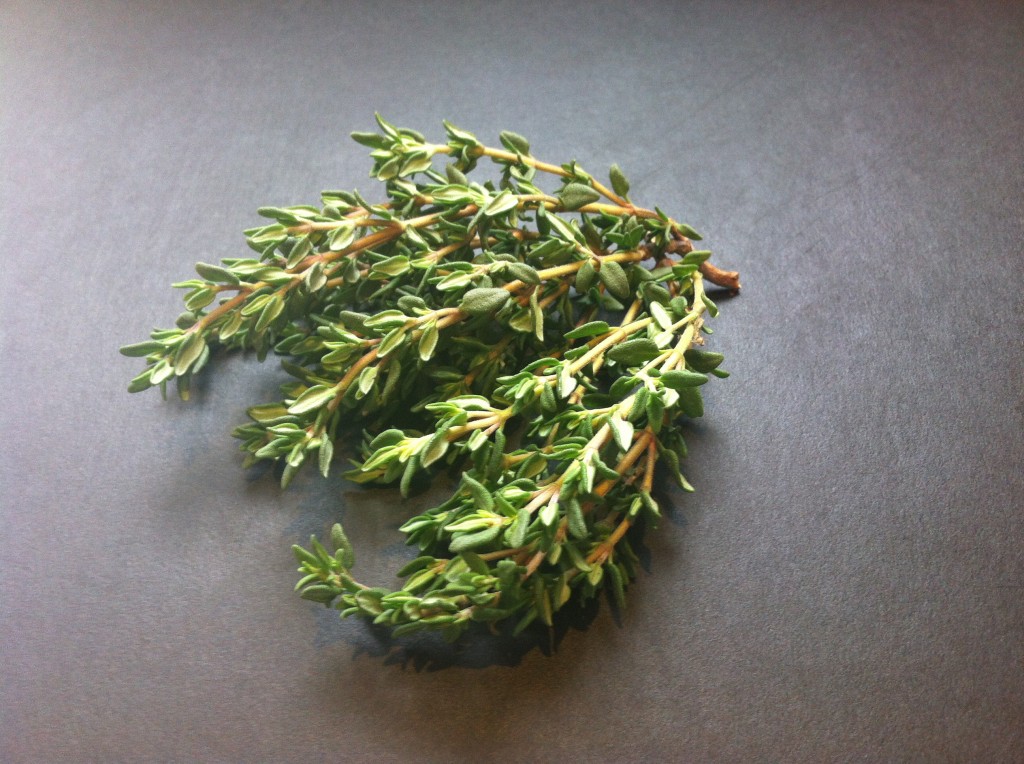 Balsamic Dip
I have been making this dip/dressing for years…my family absolutely LOVES it!  Serve alongside torn pieces of a rustic baguette (watch out…it is addictive).
This also makes a wonderful dip for raw, fresh veggies & a great spread on sandwiches.
1 cup olive oil
6 tablespoons balsamic vinegar
4-5 minced garlic cloves
1 tablespoon Dijon mustard
Place all ingredients in a bowl and blend until emulsified with a handheld immersion blender.
♣  ♣  ♣
THURSDAY
Spicy Oven-Fried Chicken |  Kale & Brussel Sprouts Salad
I don't fry chicken…I don't fry anything for that matter.  I wish I could say it is because I am health conscious (although I try to be) but, truthfully, I can't stand the mess frying creates.  But, I do love fried chicken.  When I came across this recipe at Bon Appetit.com I became hopeful that this could be the answer to my fried chicken dilemma.
I had started the buttermilk marinade for the chicken last night so all I had to do is make the breading mixture, coat the chicken pieces & bake.  Chicken thighs are our favorite so I used 10 bone-in, skin-on chicken thighs.  Forty-five minutes later, I pulled out of the oven a baking sheet full of deep golden-crusted chicken thighs.  The meat was moist & the Tabasco sauce I put in the buttermilk marinade gave the crust just the right amount of kick…the entire clan gave the chicken a thumbs up!
While the chicken was "frying" in the oven I put together this amazing salad.  Don't be thrown off by the name…I know raw kale & brussel sprouts aren't what most of us are craving but this salad is a winner, I promise!  I think the key ingredient is the toasted almonds…don't skip this one.  I used a mixture of chopped & whole almonds.  The nuts, together with the raw veggies give this salad an incredible crunch factor.  The dressing is "lemony", light and refreshing!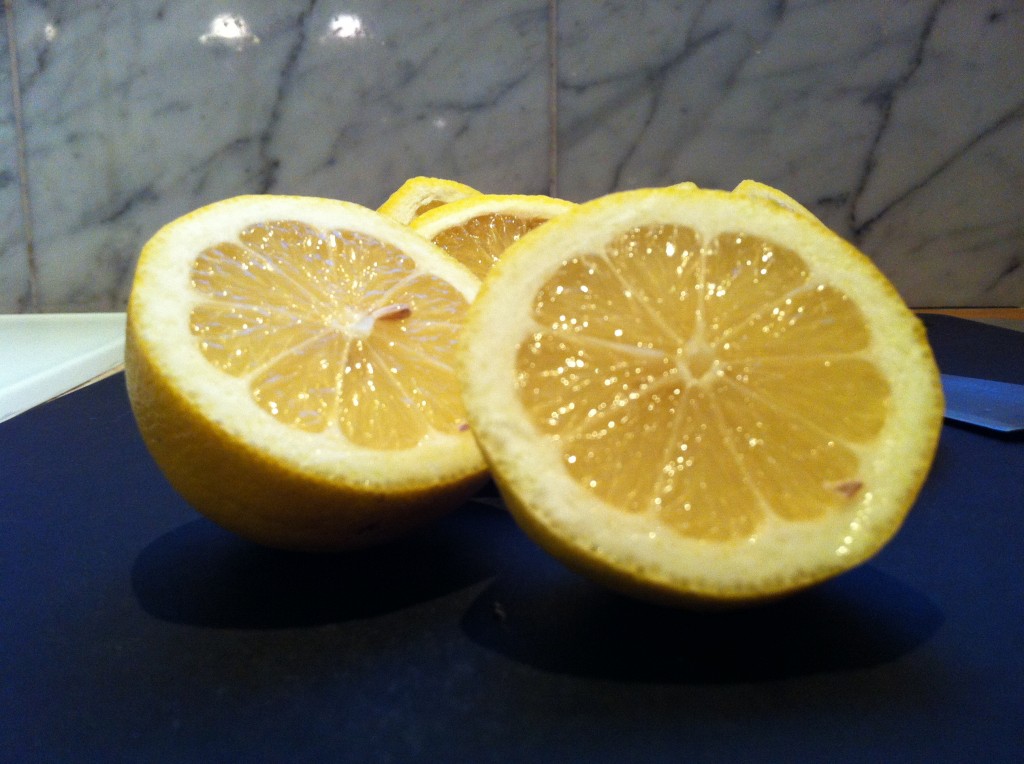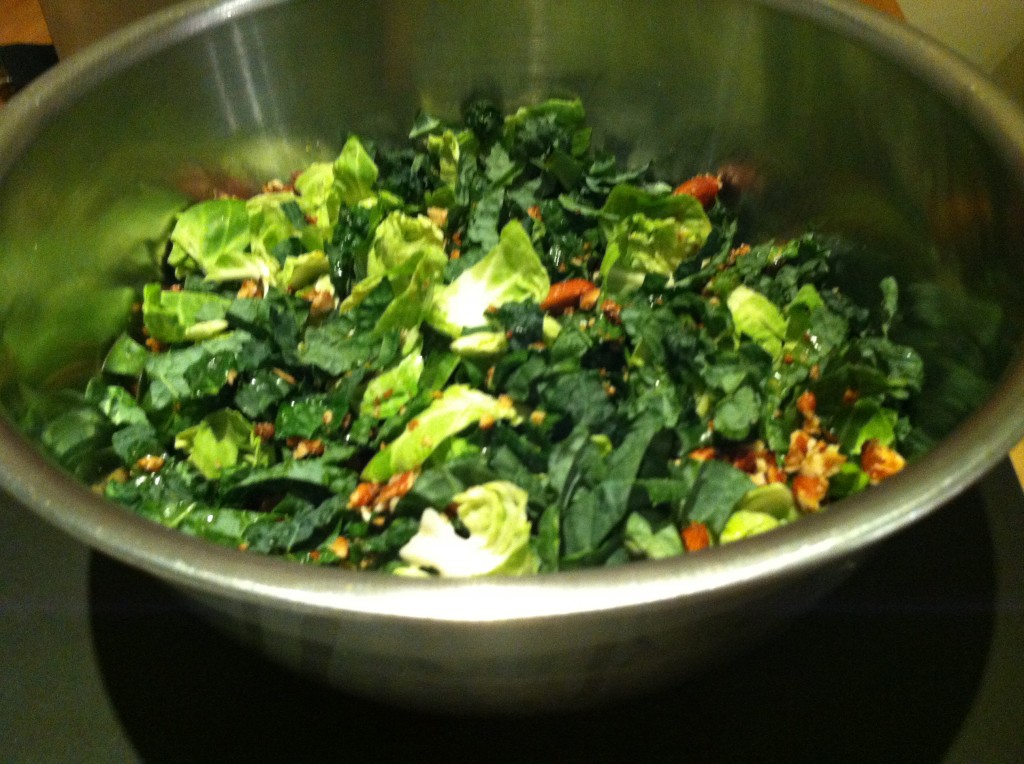 ♣  ♣  ♣
FRIDAY
Barbeque Baby Back Ribs  |  Oven Fries  |  Lagunitas Pale Ale
I follow one rule for Friday dinners…they have to be fun.  This could be a throwback to my college years.  I worked my way through my sophomore, junior & senior years of college as a bartender at an Irish pub…Friday "Happy Hour" was always my favorite shift to work.  Friends & customers would come in after a long week of classes or work and just enjoy being at the end of another week & at the beginning of a weekend.  We would serve platters of corned beef sandwiches, chips, cheeses, etc. & friends would gather recounting the highs & lows of the week.   Then (just like now) there was probably a whole weekend of homework and chores ahead but Friday nights were for celebrating…
Friday nights are for burgers, fries, milkshakes, fondue & this week … barbeque ribs!
We lived in Sonoma County for ten years before moving back to "town" & in those years my ribs developed quite a following.  It seems silly now because the recipe is SOOOO simple but, I have to admit, the result is spectacular…
Barbeque Baby Rack Ribs
FYI…this is not a recipe that uses exact measurements (as in most of my cooking)…it is about "slathering" in layers.  Start off with the number of racks that suit your gathering…for my family of five (and drop-in guests) I usually go with 3 racks of pork baby back ribs…
Preheat oven to 400°.  Line (completely) a large, rimmed jelly roll pan with foil (double layers of foil will make your clean-up easier) and spray with non-stick cooking spray.  Place the racks of ribs on the sheet and coat, liberally, with coarse sea salt, freshly ground black pepper & dark brown sugar.  Using your hand, rub the salt, pepper, brown sugar mixture into the meat.  Tightly seal with foil and roast in the oven for an hour.
Remove pan from the oven and discard top, sealing layer of foil.  COMPLETELY coat racks of ribs with barbeque sauce (if not homemade, I go with Leon's bottled sauce…for three racks I use 2 bottles).
Return ribs to oven & continue to cook for another hour.
When ribs are done, remove from oven and let rest for 30 minutes.  Then slice individual ribs and pile in a bowl.  Serve with extra sauce on the side.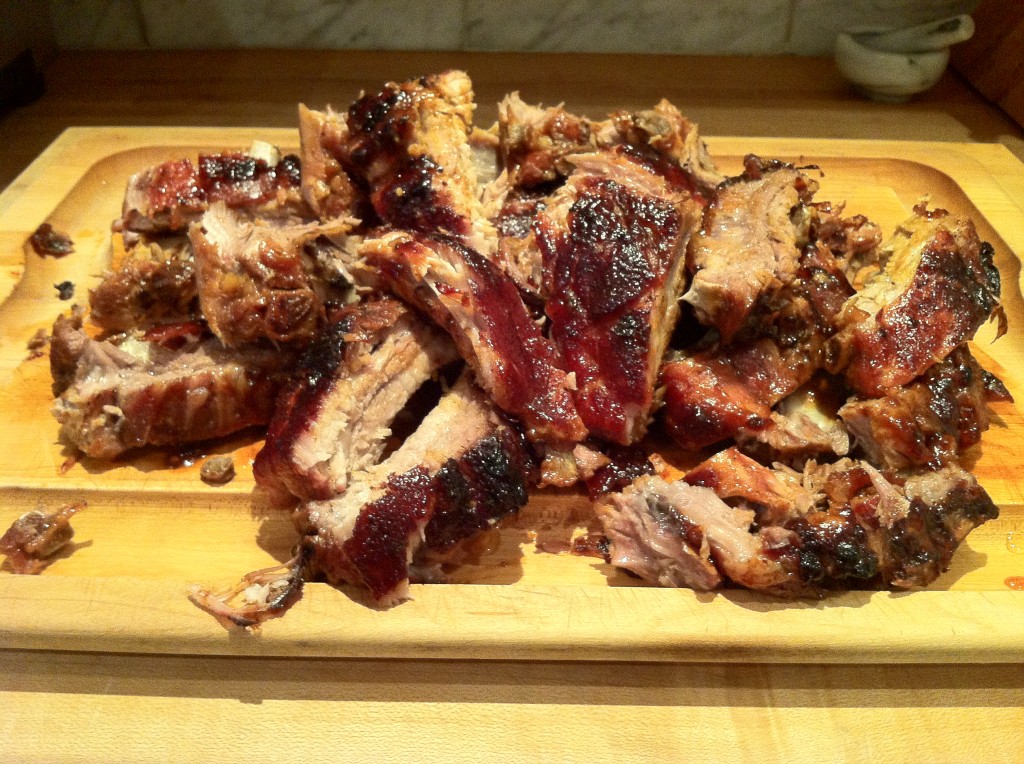 Happy Weekend & Happy Dining!!!