SUNDAY
(Boys' Choice…see below)
MONDAY
Roast Chicken with Rosemary, Lemon & Honey | Steamed Broccoli | Brown Rice
TUESDAY
Bacon, Lettuce & Tomato Sandwiches | Seasonal Fruit Salad with Fresh Mint
WEDNESDAY
Mini Chicken Pot Pies with Bacon
THURSDAY
Asian Salmon Bowl with Lime Drizzle | Jasmine Rice
FRIDAY
Burgers on the Grill | Truffle Fries | Watermelon Soda Float
SUNDAY  |
As life would have it, I have decided to start this little project of journaling my family's weekly dinner menus on the heels of returning from a three-day horse show with my two daughters.  I thought about putting this off but, after looking at our insane calendar for the next few weeks, I decided to just dive right in!  I usually sit down on Sunday mornings  with a cup of coffee and plan our dinners for the week however, this Sunday I was braiding pig tails, dusting off show coats, polishing riding boots & packing up two horses, two girls and A LOT of stuff to make the five hour journey home.  This week, Sunday dinner rests in the capable hands of Michael (Daddy) and Max (Brother) who are at home eagerly awaiting our return.  The girls and I will arrive at our front door…exhausted, more than a bit dusty and craving some green vegetables after a diet of horse show concession food for three days.  So for this, my very first dinner journal entry, I share with you a few scenes from my weekend:
MONDAY  |
Well, it is not surprising that I woke up this morning with a terrible cold.  The temperature in the afternoons at the horse show hovered in the upper 90's while the evenings (and yes we were camping out!) dipped into the lower 50's.  Girls seem fine but Mom is under the weather.  Michael was a doll and grabbed a couple of "safety" items at the grocery store while we were gone this weekend:  a couple of whole roaster chickens and some ground beef, so that is my starting point for this week's menu.  Tonight's dinner will be Roast Chicken with Rosemary, Lemon & Honey.  I always like to keep homemade chicken stock on hand so I will be able to use the chicken bones from tonight's dinner to make a fresh batch of stock.  Whenever one, or more, of us has a cold, we are comforted by sipping on a hot mug of chicken stock.  Also, I will be able to use the chicken stock, as well as any leftover chicken meat, in the chicken pot pies I will be making for Wednesday's dinner…one less thing to do on Wednesday!  (Tip:  I like to use my immersion blender to mix the marinade & then I use a bulb baster to inject the marinade underneath the skin of the chicken)
TUESDAY  |
The key to this meal is quality ingredients.  Heirloom tomatoes are spectacular right now & really make a difference in this simple sandwich.  Then there's the BACON…my absolute favorite bacon comes from the Black Pig Meat Co. located in Sonoma County, California.  Quality pork, brown sugar & real wood smoke make this bacon truly AMAZING!! Fresh bread, crisp butter lettuce & homemade mayonnaise elevate this sandwich to dinner-worthy status. My favorite bread comes from the Acme Bread Co.  Located in Berkeley, CA, they have a retail kiosk at the SF Ferry Building so my husband can pick up a fresh loaf before hopping on the ferry home at the end of the day.  Acme Bread & Blue Bottle Coffee in one place…I am a lucky girl!! Our simple fruit salad consisted of cantaloup, blueberries & fresh mint leaves…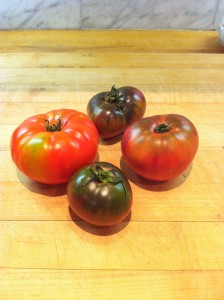 Definitely cook 5-6 more pieces of bacon than you will need for the sandwiches and save all of the bacon drippings.  You will want to saute the vegetables for Wednesday's pot pies in some of the bacon drippings and whatever drippings are left over from that make a nice topping over dog kibble (lucky dogs).  Once these pieces have cooled, place in a sealed container and put in the refrigerator.  The bacon drippings, after cooling a bit, should be placed in, preferably, a covered glass bowl.  You will use both the reserved bacon pieces & the bacon drippings for Wednesday's chicken pot pies.
WEDNESDAY |
Mini Chicken Pot Pies with Bacon & Marjoram have a certain "WOW" factor when placed on the dinner table but I have also followed this recipe and made one large pot pie in a deep pie dish using one full sheet of frozen puff pastry (thawed)…this option works just fine & saves a few minutes of prep time.  If you don't have enough chicken left over from Monday night's dinner you can pick up a prepared rotisserie chicken from your local market and carve off the meat for this recipe.  This is a wonderful one-dish meal.  Don't leave out the creme fraiche…it thickens the chicken filling, beautifully, without curdling.
THURSDAY |
It is September and high season for salmon fishing.  Our neighbor, Dave, goes out several days a week and brings back some of the most beautiful salmon I have ever seen!  It has been an extraordinary season so far this year and Dave has regularly shared his bounty with us.  With fish this fresh I rarely do more than lightly season it with a pinch of salt & pepper, brush with a bit of olive oil and then sear on the grill.  This week, however, the children were asking for something "asian" (actually, "chinese take-out" were their exact words!).  This Asian Salmon Bowl with Lime Drizzle recipe, which was originally published in the June 2012 edition of Self magazine, satisfied us all!!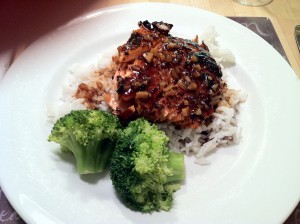 As you can see from the photo, I substituted steamed broccoli for the wilted spinach called for in the recipe because I had plenty left over from Monday night's dinner that I did not want to waste.  I simply steamed the broccoli in the microwave and added to the plates just before serving.
FRIDAY |
We have been looking forward to this dinner ALL week!  It is a warm afternoon here on the SF bay…the sun is shining and the water is dotted with sailboats enjoying the light winds coming under the Golden Gate Bridge.  Great weather for burgers on the grill, a watermelon float & TRUFFLE FRIES!!!!  We don't indulge in french fries that often but when we do I often whip up this truffled variety.  Just a few ingredients can turn burger night into something special:
store-bought frozen french fries (preferably shoestring, cooked according to package instructions)
finely chopped fresh chives
freshly grated parmesan cheese (I use the raw milk parmesan from Whole Foods)
truffle oil (I use

La Tourangelle Infused White Truffle Oil

) 
The amounts for each of the above will vary depending on the number of people you are feeding.  For our family of five (including two teenagers) we usually go with the family size package of fries, 1/2 oz. of chives, 2 teaspoons of oil and 2-3 tablespoons of the cheese.  You can play with the various amounts to suit your tastes.  I find with the truffle oil you don't need to add salt.  Enjoy!!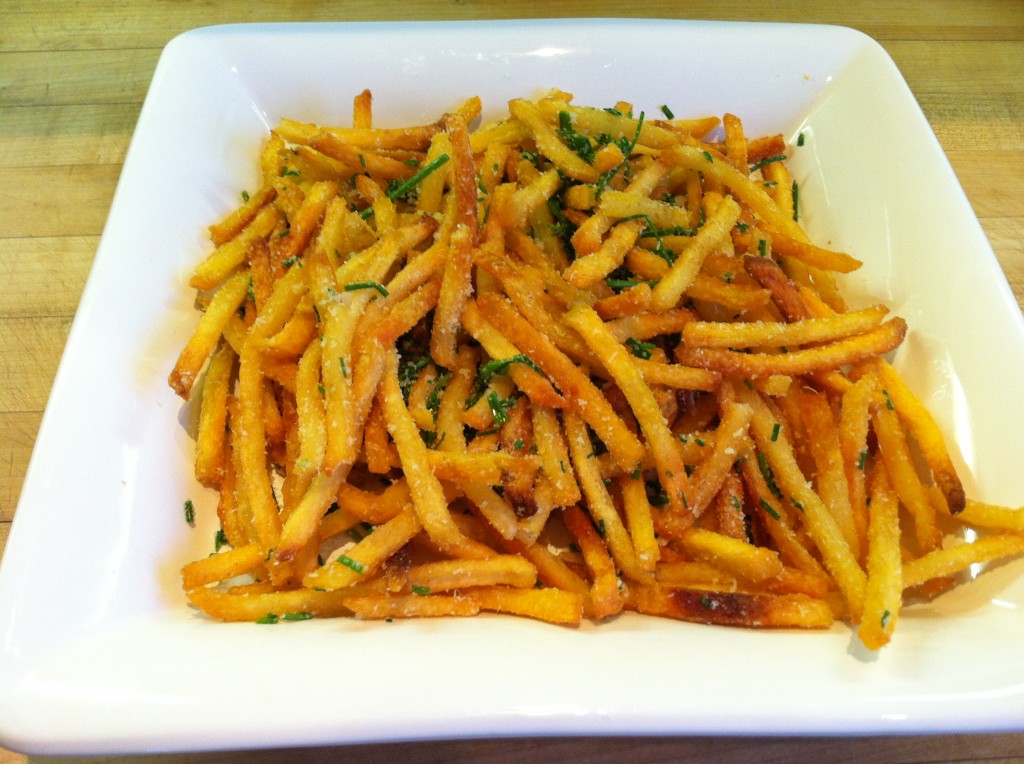 See  you next week…Happy Dining!