SUNDAY
Ham with Golden Breadcrumbs & Madeira Sauce  |  Skillet Green Beans with Pine Nuts | Ivor's Pink Applesauce    
MONDAY
Slow Cooker Tomato Soup  |  Grilled Ham & Cheese Sandwiches
TUESDAY
Chardonnay Braised Chicken Thighs with Parsnips   |  Applesauce  |  Steamed Broccoli
WEDNESDAY
Onion & Bacon Tart  |  Mixed Green Salad with Apples & Dijon Vinaigrette
THURSDAY
Fresh Catch of the Day  |  Brussel Sprouts 
FRIDAY
Classic Cheese Fondue  |  Rustic Bread, Charcuterie, Pickles, Broccoli Florets, Apples
SUNDAY
Ham with Golden Breadcrumbs & Madeira Sauce  |  Skillet Green Beans with Pine Nuts | Ivor's Pink Applesauce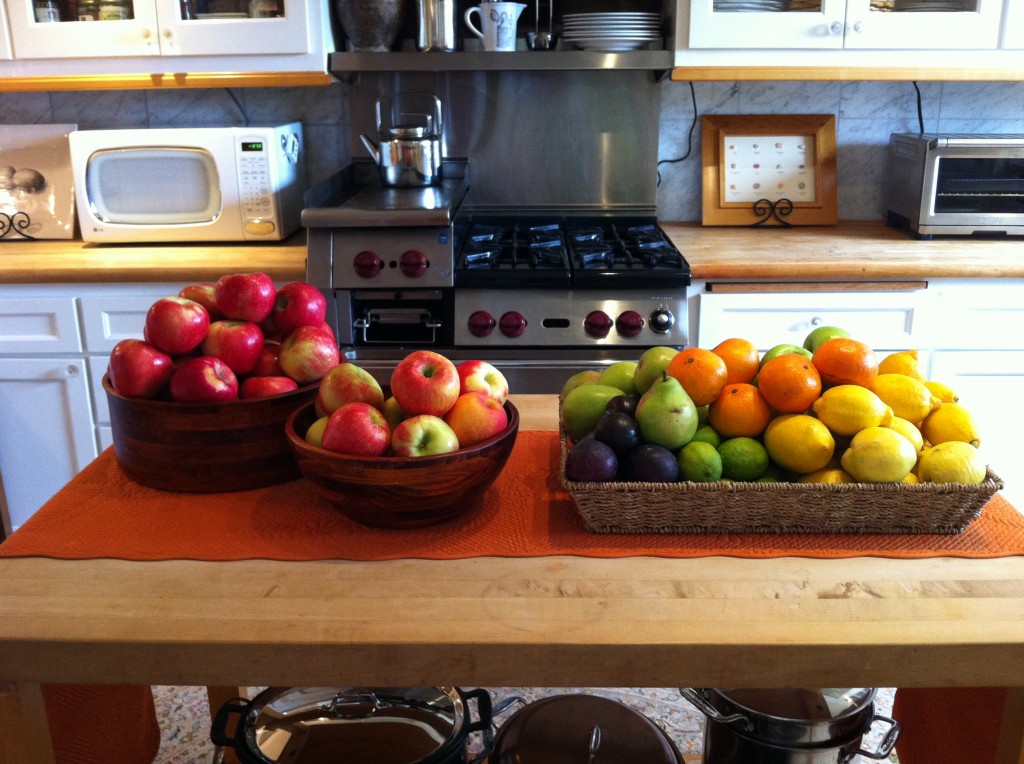 Okay…so I went a little crazy at the Farmer's Market yesterday morning!  The apples, pears, plums, lemons…they all looked SO beautiful!!  I knew I would be making applesauce this week so I jumped at the chance to gather as much as I could carry home.  Whatever doesn't make it's way into the pot will certainly be snatched up as a snack & with horses in the family I never have to worry about apples going bad.
I have been making my own applesauce for over seventeen years.  It was one of the first foods enjoyed by each of my children as babies.  For the most part, I have made it the same way all of these years…apples, sometimes a few pears, a squeeze of lemon juice and a touch of cinnamon.  I NEVER add sugar.  As I was touring the Food & Wine website this past week I came across Ivor's Pink Applesauce recipe and I loved the idea of adding a few plums (I adore just about anything that is pink and I was intrigued with the technique used in that recipe for removing the skins).  I made a few adjustments based on the fruit I had on hand and doubled the recipe (except for the sugar).  Here is a list of the fruit I used:
6 Honey Crisp apples, cored & quartered
6 Gravenstein apples, cored & quartered
3 D'Anjou ears, cored & quartered
6 plums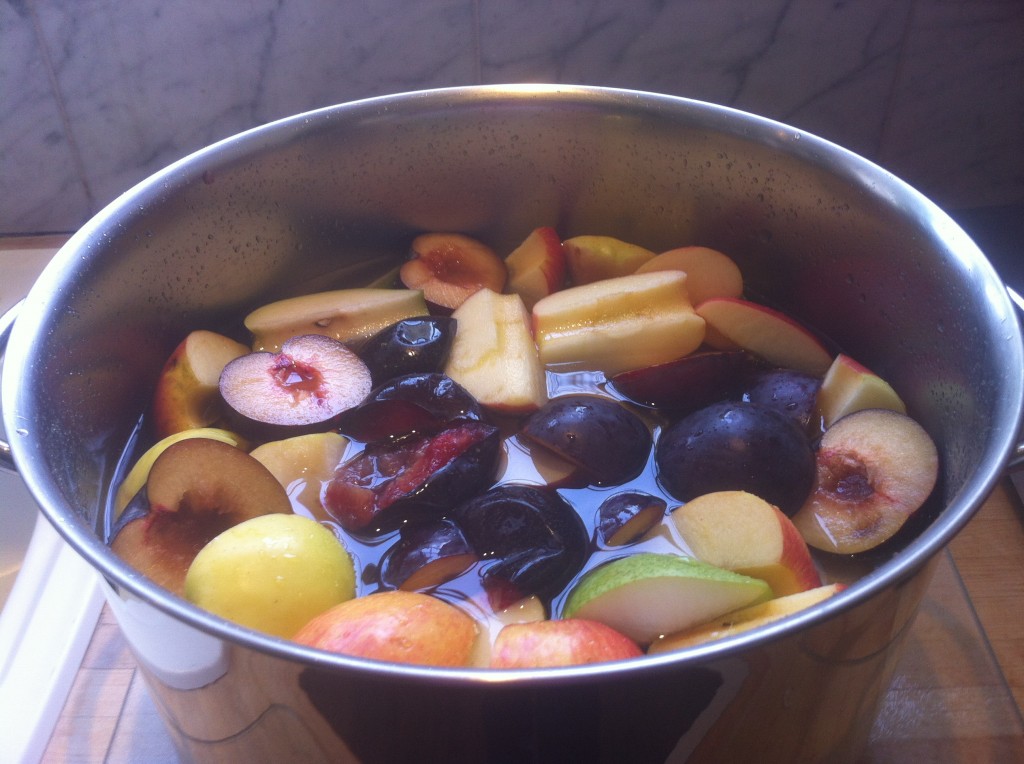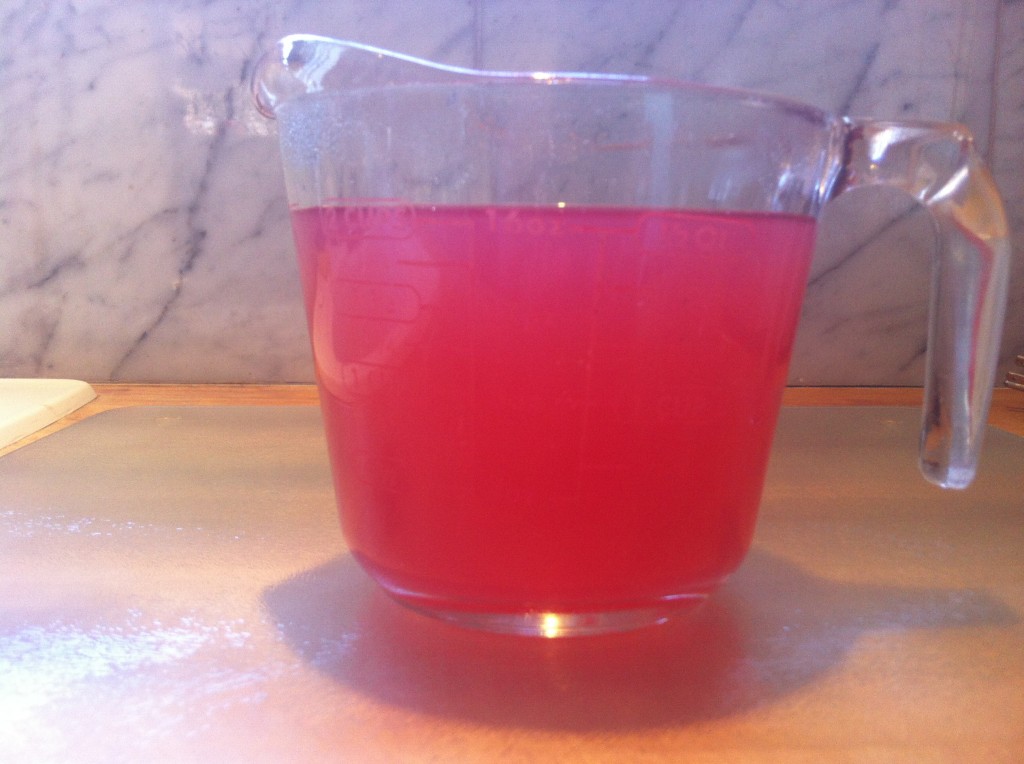 As you can see, the cooking liquid, rendered during the simmering process, had a lovely pink color.  The finished applesauce however, had nothing more than a hint of blush (a bit disappointing) but the flavor with the added plums was a special treat.  I sampled the applesauce before adding any sugar & it definitely needed a little touch of sweetener.  Even though I doubled the fruit, I added the sugar in the amount called for in the original recipe & it was plenty.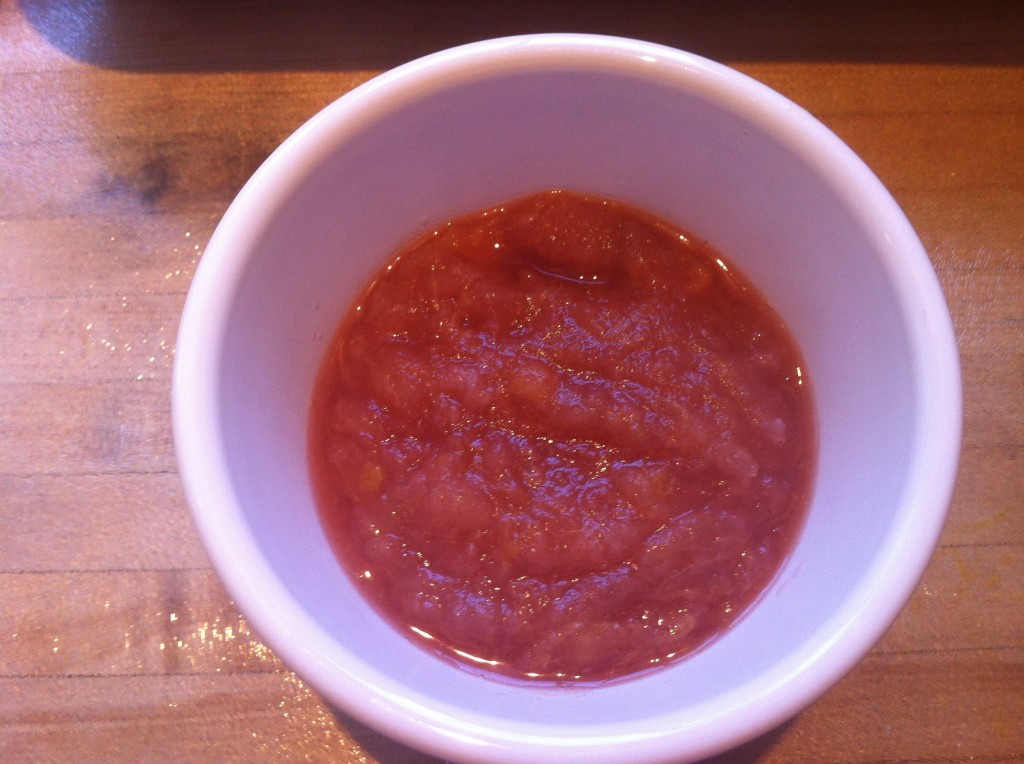 And so, for the ham…
The ham was so moist & the Madeira gravy, smooth as velvet. [ Note:  When carving the meat, set aside the meaty ham-bone.  Once cool, place it in a resealable freezer bag and freeze for later use…I think next week I will make a split pea & ham soup! ] The applesauce was a perfect side dish & the green beans with pine nuts tasted buttery, salty & crunchy…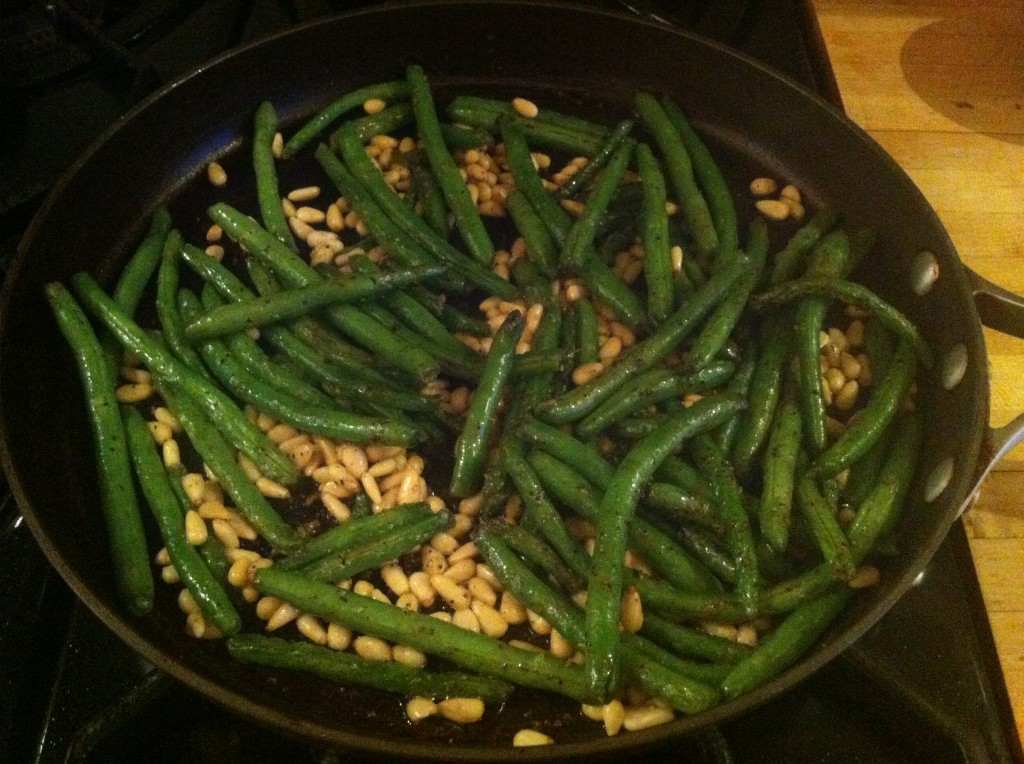 Skillet Green Beans with Pine Nuts
4-5 tablespoons extra-virgin olive oil
2 cups washed & trimmed green beans
¼-½ cup pine nuts (depending on how much you like pine nuts…my kids LOVE pine nuts so we always add quite a bit of them)
Coarse sea salt & pepper to taste
Heat oil in a large skillet over medium high heat.  Add green beans and sauté for 2-3 minutes.  Add pine nuts to the pan and stir continuously for an additional 4-5 minutes, until pine nuts turn golden brown.  Season with salt & pepper and toss well.  Serve immediately.
MONDAY
Slow Cooker Tomato Soup  |  Grilled Ham & Cheese Sandwiches
This is our favorite tomato soup & I especially love that it is a slow-cooker entrée.  This recipe gets even easier if you have a slow cooker with a nonstick aluminum insert…sauté the onions using the insert on the stovetop then move the insert into the slow cooker, add remaining ingredients, cover & cook!  We enjoy any leftovers the following morning with scrambled eggs on the side. (I have adapted this recipe for our family from a recipe originally found in the cookbook, Not Your Mother's Slow Cooker Cookbook, by Beth Hensperger and Julie Kaufmann):
Tomato Soup
1 cup (2 sticks) unsalted butter
3 large yellow onions, chopped
2 28-ounce cans imported Italian crushed tomatoes, with their juice

(I prefer the San Marzano brand of canned tomatoes)

1 cup extra dry vermouth
1 ½ tablespoons of sugar
1 tablespoon dried tarragon
Salt to taste
2 tablespoons crème fraîche or garnish with freshly grated Parmesan cheese
 In a large skillet (or in the nonstick aluminum insert of your slow cooker) over medium heat, melt the butter.  Add the onion and cook until golden, 20-25 minutes, stirring often to cook evenly.
Combine the next four ingredients in the slow cooker; add the buttered onion mixture, scraping out the skillet (or, if you are using your nonstick aluminum slow cooker insert to brown the onions, simply add the next four ingredients to the onion mixture, remove insert from the stove-top and place into the slow cooker).  Cover and cook on LOW for six hours.
Add salt to taste & crème fraîche.  Purée in batches in a food processor or with a handheld immersion blender.  Serve immediately. (For a less creamy version, we omit the crème fraîche and garnish the individual bowls with freshly grated Parmesan cheese).
[ Note:  This recipe yields 8-10 servings.  To cut the batch in half…halve the amount of all of the ingredients except the onion.  I still use 2 large onions. ]
Grilled Ham & Cheese Sandwiches
I have taken the leftover roasted ham from last night's dinner and thinly sliced on our deli slicer:
One trick I have learned when making grilled meat sandwiches is to first heat the meat & cheese in a skillet before assembling on bread.  This way, the meat heats through & the cheese melts and you don't have to worry about your bread getting overly browned in the grilling process…
For these sandwiches, I have paired the ham with fresh shavings of good-quality Gruyere cheese & dressed the bread with dijon mustard…
Once the meat & cheese have been heated, remove from skillet and assemble sandwiches.  Melt 1-2 tablespoons of butter in skillet and grill sandwiches until bread turns a golden brown.  Plate sandwiches, slice & serve.
TUESDAY
Chardonnay Braised Chicken Thighs with Parsnips   |  Applesauce  |  Steamed Broccoli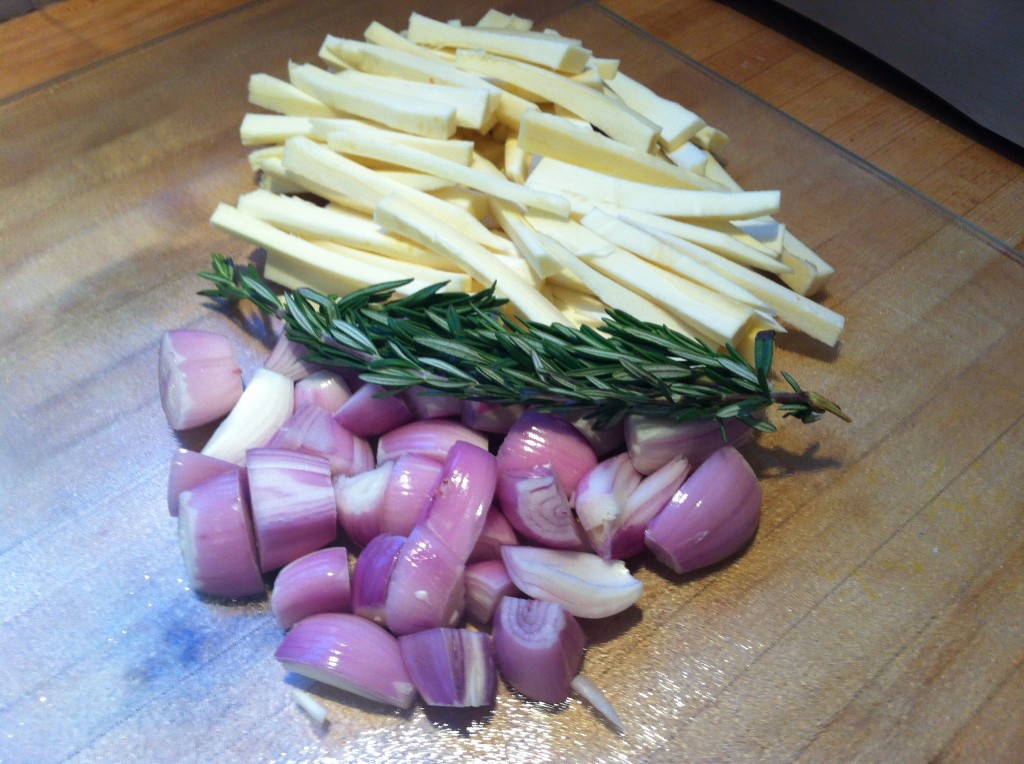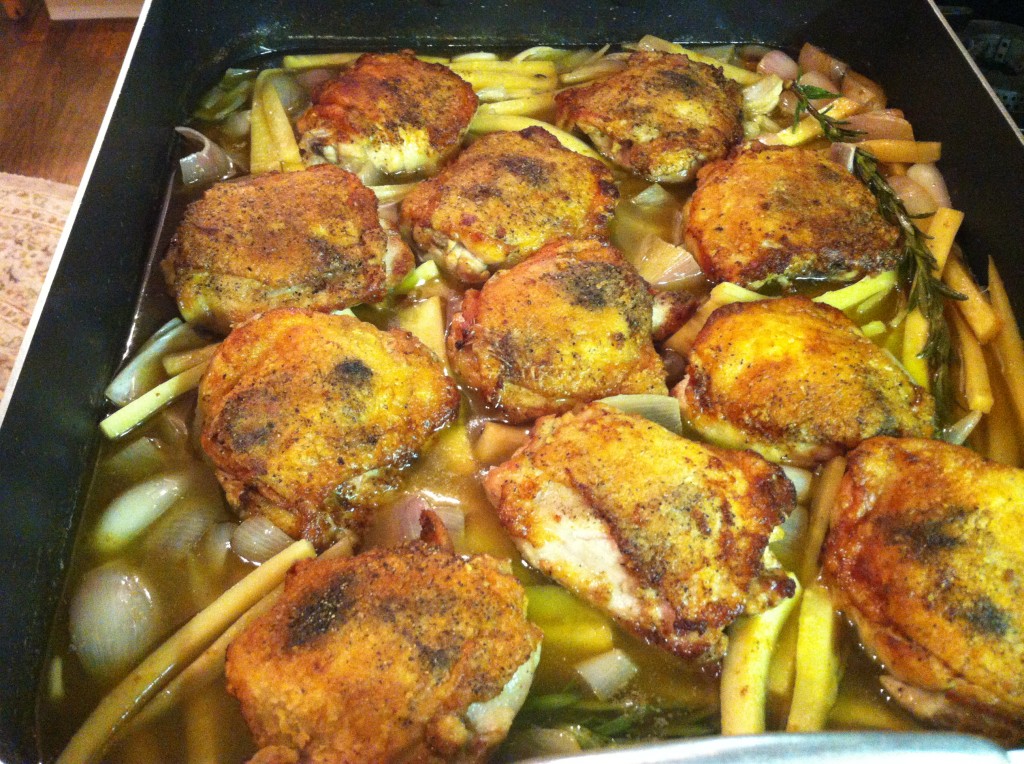 Chicken thighs, already much more flavorful than the popular breast cut, gain a wonderful richness in this simple braise…moist meat covered in crunchy skin.  A cold, leftover thigh & a Honey Crisp apple will make a wonderful lunch tomorrow!
For tonight's dinner, I paired the braised chicken with the pink applesauce leftover from Sunday night and steamed a few pieces of broccoli…super easy!
WEDNESDAY
Onion & Bacon Tart  |  Mixed Green Salad with Apples & Dijon Vinaigrette
We are experiencing a blast of Indian Summer here in the North Bay this week…afternoon temperatures have been in the upper 80's and low 90's.  I am happy that tonight's dinner is this simple tart & salad. I followed Saveur's Onion & Bacon Tart recipe     with the addition of 2 tablespoons of dried sage to the custard filling & I increased the dry mustard to 2 tablespoons as well.  After reading the reviews of this recipe, I decided to try and increase the flavor of the filling…I am glad I did.  The finished tart was fluffy and savory…the three small squares leftover will be enjoyed by the children tomorrow morning for breakfast.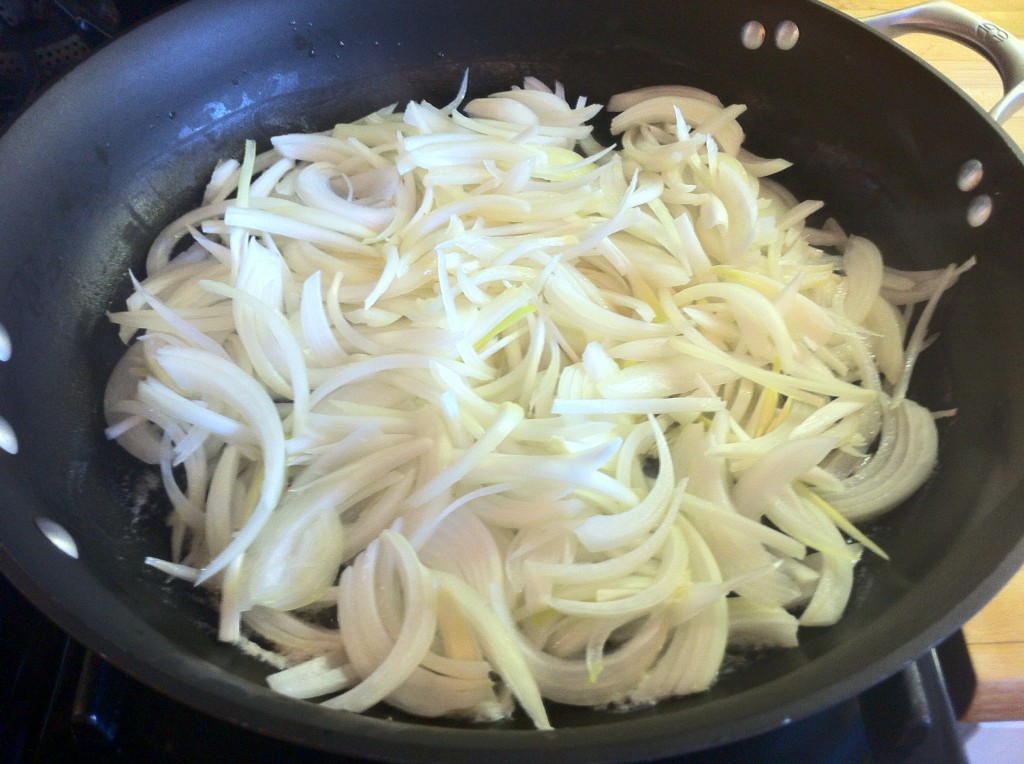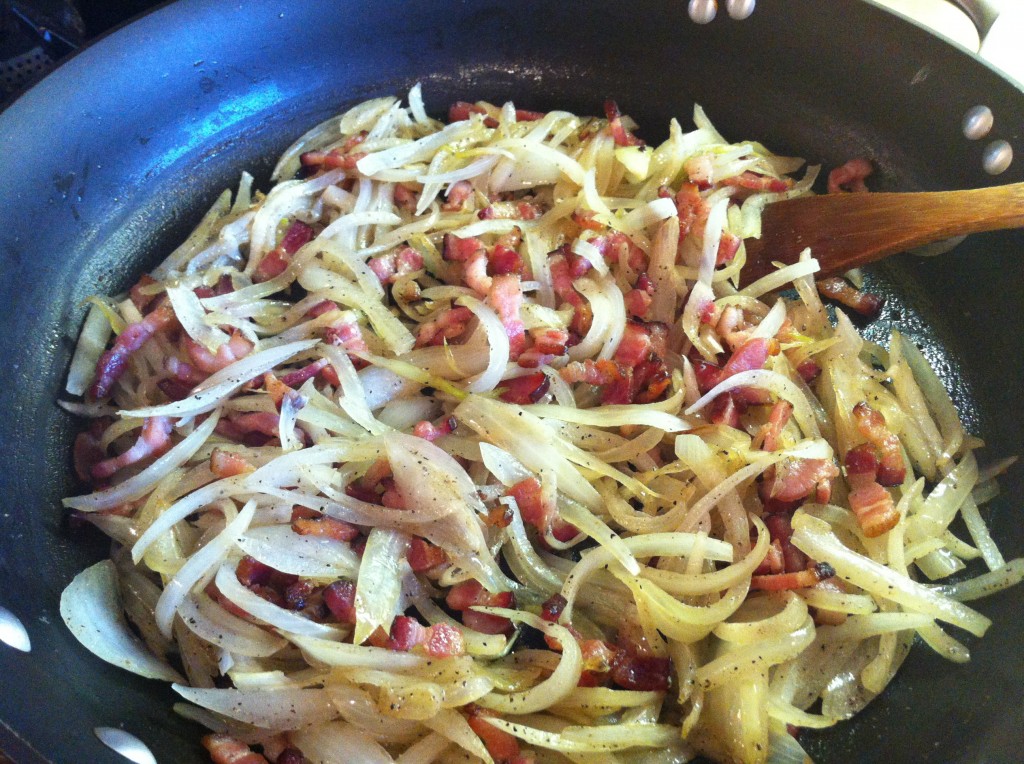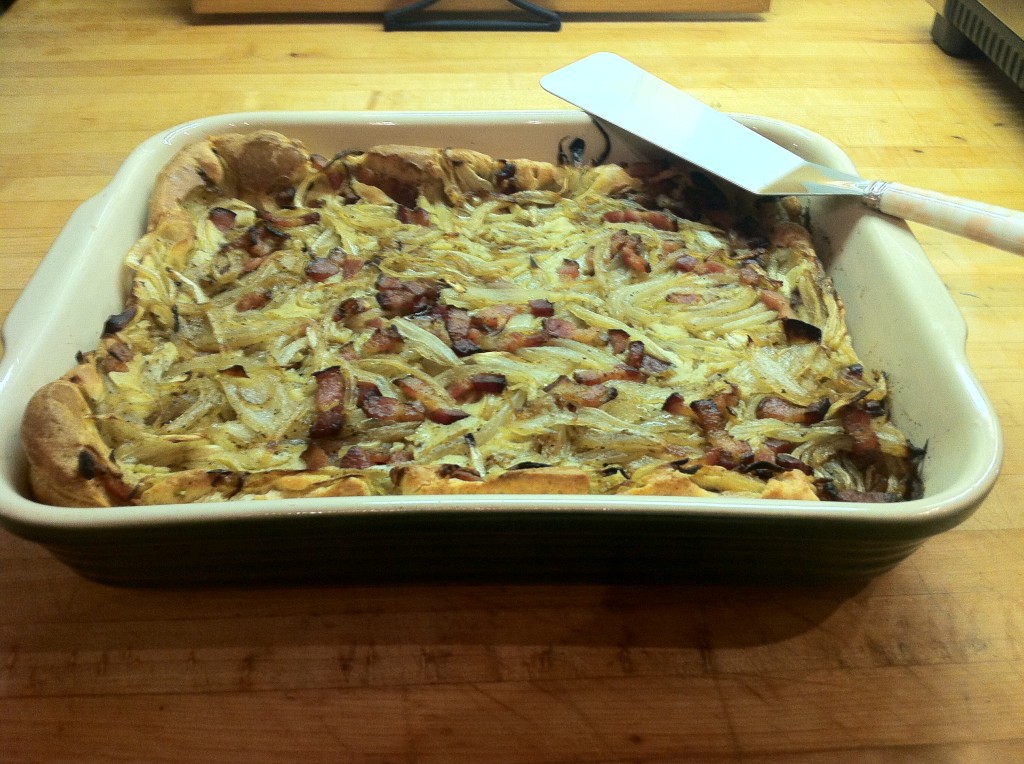 For the salad, I placed 3-4 cups of mixed baby greens in a bowl, added 2 green apples (cored and diced) & tossed with this simple vinaigrette:
Dijon Vinaigrette 
¾ cup extra virgin olive oil
¼ cup sherry vinegar
2 tablespoons dijon mustard
I normally like to add some minced shallot to this vinaigrette but since the accompanying tart was packed with onion I decided to keep this version shallot-free.
THURSDAY
Fresh Catch of the Day  |  Brussel Sprouts 
I had already planned on doing fish for tonight's dinner when I put together this week's menu but I didn't know what type of fish.  When it comes to fish, I like to purchase it the day we will be eating it.  I select an evening where I know I will have time to get to the fish market & there I select whatever catches my eye.  Today, as luck would have it, my neighbor Dave knocked on my kitchen door around 11:00am with a lovely package of salmon he caught while fishing this morning…what a lovely surprise!  It just so happened that Dave found me in the middle of baking cookies…I was happy that I could send him off with a tin of chocolate kiss-topped peanut butter cookies for he and his wife to share this evening.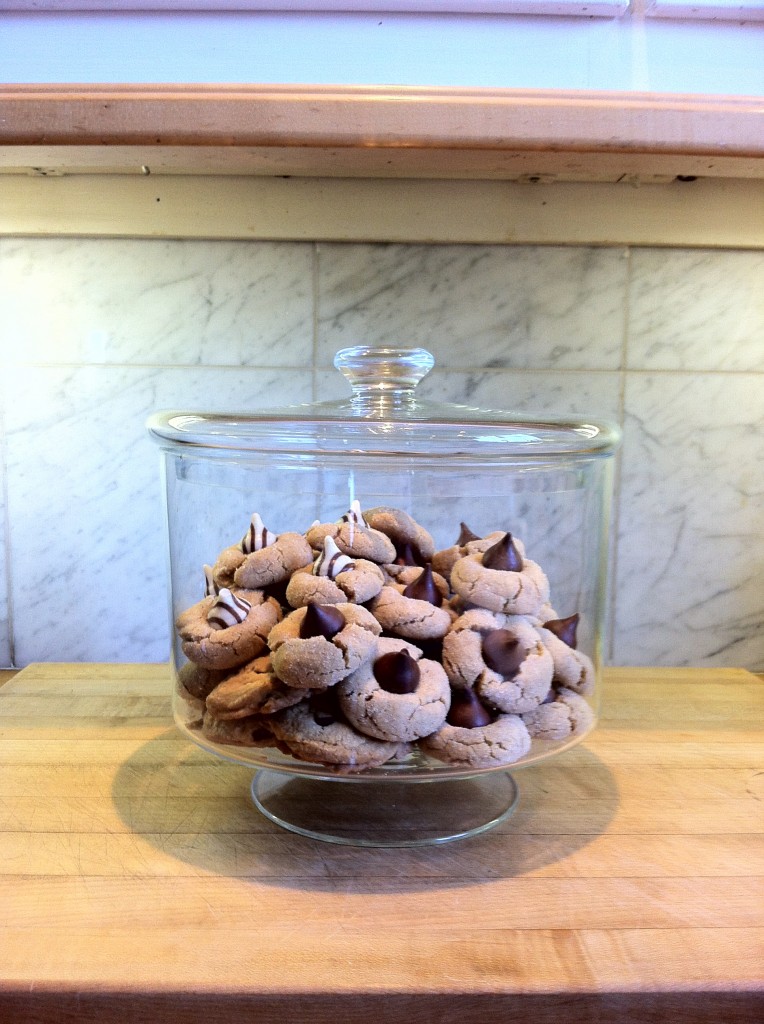 It is still rather warm out today and, after baking cookies, I do not want to turn the oven on again this evening…so, simple grilled salmon it is.  With fish this fresh, you really don't need to do much…
 Simple Grilled Salmon
3 tablespoons grated lemon zest
½ cup freshly squeezed lemon juice
½ cup extra virgin olive oil
Coarse Sea Salt & freshly ground black pepper to taste
2 lbs. fresh salmon filets
Prepare a medium-hot fire in a charcoal grill.  Place the salmon filets, skin side down & in a single layer, into a baking dish.  Combine first three ingredients in a bowl and then pour mixture over fish.  Refrigerate the marinating fish for approximately 10 minutes.  Transfer fish, skin side down, to the grill rack.  Cover the grill & cook 8-10 minutes (the fish is done if it can be flaked with a fork).  With a spatula, remove grilled filets to a cutting board, slice & serve immediately.
Skillet Brussel Sprouts
My clan loves these little veggies from the cabbage family so I usually start with about 24 sprouts.  I cut the tough stem ends off and then quarter each sprout.  In a large skillet, heat 2 tablespoons of olive oil over medium heat.  When the oil begins to shimmer, add the brussel sprouts and cook, stirring often, for about 5-7 minutes.  This cooking time will yield bright green sprouts that still have a bit of crunch.  If you desire a softer, more tender vegetable cook for a longer period…more like 10-12 minutes.  Remove skillet from heat and season with salt and pepper.  I kept the grilled salmon pretty simple tonight so I decided to toss the brussel sprouts with 1 tablespoon of dijon mustard as a light dressing…fantastic result!
FRIDAY
Classic Cheese Fondue  |  Rustic Bread, Charcuterie, Pickles, Broccoli Florets, Apples
Fog and cool temperatures returned to the Bay today.  A fine mist was in the air all morning and, although the sun broke through around 2:30 this afternoon, a thick stream of fog continued to blanket my view of the Bay Bridge for the remainder of the day.  Michael took an earlier ferry home & along his way he picked up a fresh Epi baguette from Acme Bread Company and some wonderful cheese & charcuterie from Golden Gate Meat Company…
As if today's weather wasn't enough to get us in the mood for a fondue dinner, I read the article Aspen's Best New Year's Party , which accompanied the fondue recipe at Food & Wine.com.  I have been to Aspen many times and Lois Brady's article transported me back for a few minutes…I could almost feel the rush of warmth that hits you when you enter The Little Nell after coming in from the runs on Aspen Mountain.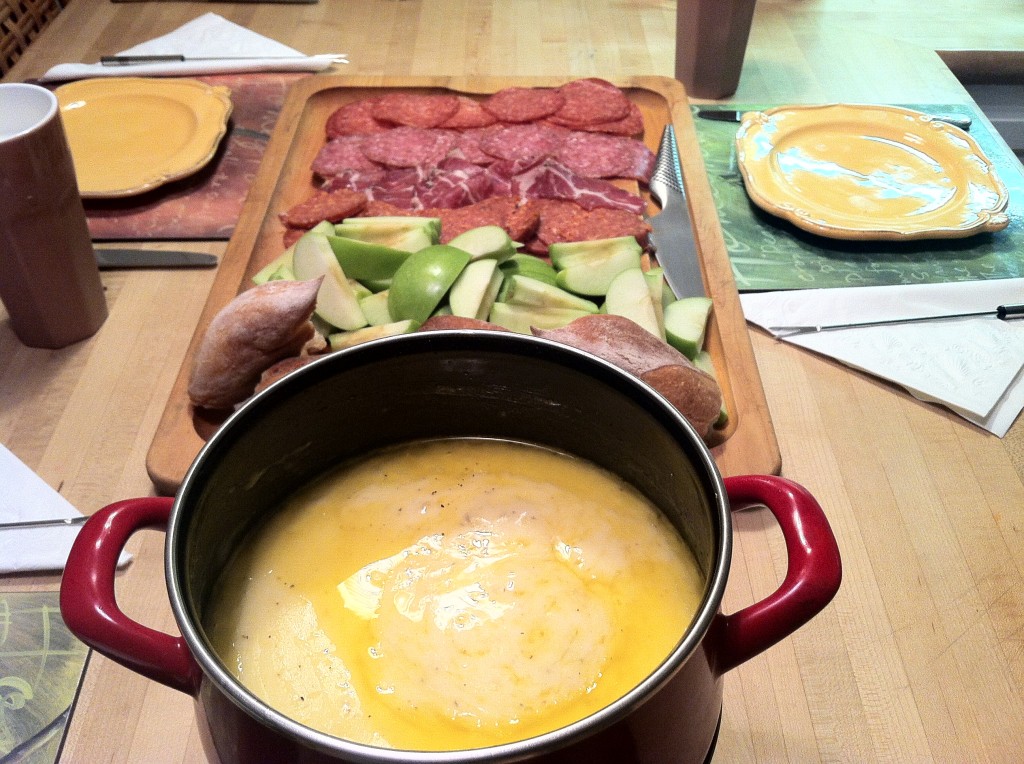 Thanks for visiting!  Wishing everyone a wonderful weekend & Happy Dining!