SUNDAY
Six-Hour Pork Roast | Oven Roasted New Potatoes | Apple, Dried Cherry & Walnut Salad with Maple Dressing 
MONDAY
Butternut Squash & Apple Soup with Melted Bleu Cheese | Left-Over Pork Roast Sandwiches
TUESDAY
  Mushrooms with Soy Butter | Linguine | Garlicky Greens
WEDNESDAY
Baked Ziti with Pork & Sausage Ragu 
THURSDAY  &  FRIDAY
SUNDAY |
This roast has to be one of our family's absolute favorites!  Fresh herbs & slow roasting take this inexpensive cut of meat and transform it into a moist, rich, flavorful dinner sensation. The preparation required for this dish is minimal…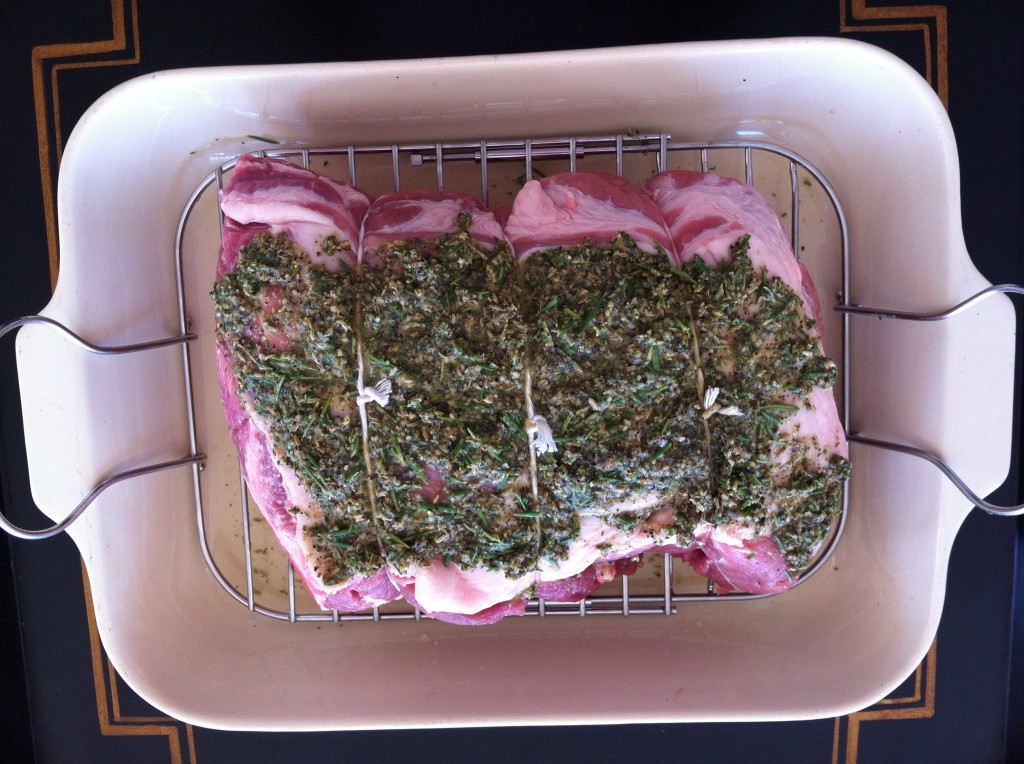 Put the roast in the oven and leave it alone for six hours!!!  You will love the savory aroma the roast gives off as it cooks.  It was a beautiful day here today so I had several doors & windows open…when the girls were walking up the street, returning home from the barn, they said they could smell dinner from four houses away! The perfume of roasting pork, fennel, garlic, sage & wine will tempt you all afternoon but here is the reward…Enjoy!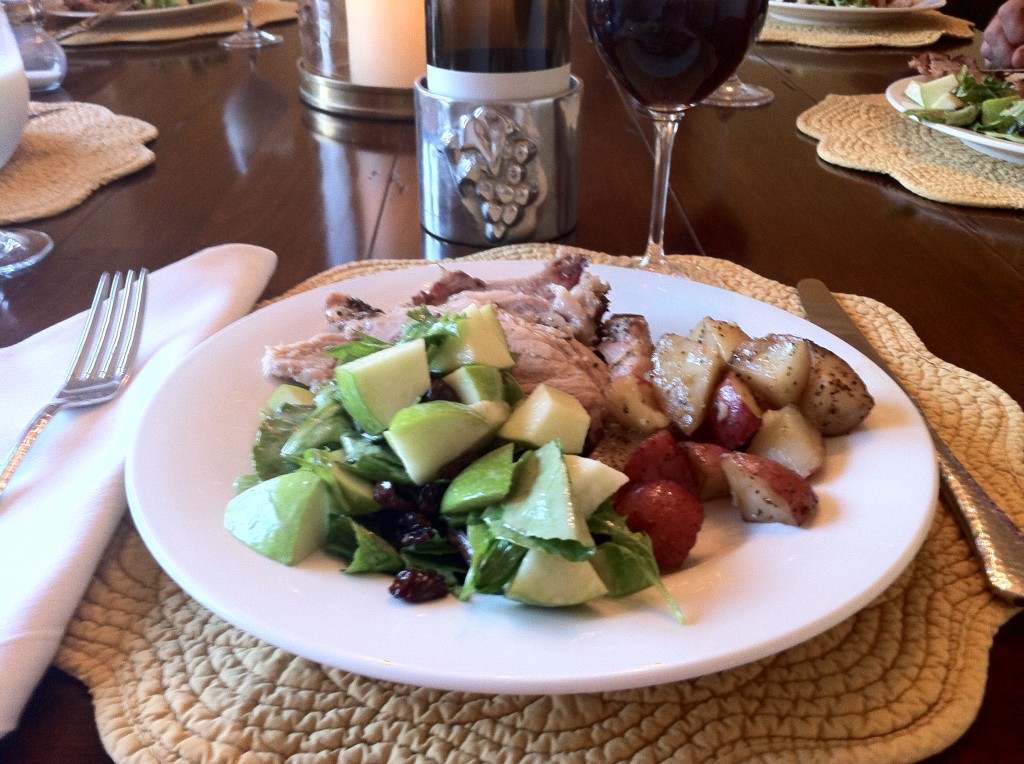 Tip:  For the dressing on the  Apple, Dried Cherry & Walnut Salad, use Homemade Mayonnaise.  The recipe for this condiment is so simple & so much more flavorful than any store-bought variety.  Also, for both the dressing and the mayonnaise, I simply put the ingredients in a bowl and mix using my immersion blender…this saves some "whisking" time.  The mayonnaise will also come in handy for tomorrow night's left over pork sandwiches!
MONDAY |
Another way to prepare the squash for this soup is to cook it in a slow cooker, on low, for 8-9 hours.  Simply wash the squash and place it in a slow cooker with 3 tablespoons of water.  The key is to make sure your squash fits in the cooker so that the lid is snug. The squash is cooked if it can be easily pierced through to the center with a sharp knife.  Let the squash completely cool & then slice the squash in half (lengthwise) and remove seeds. I use an ice scream scoop to remove the soft flesh from the shell and then discard shell.  I will cook it this way if I need to be out during the day or if we are getting home late.  Once the squash is cooked and cooled the soup comes together pretty fast.  NOTE:  the recipe, as published, calls for 1 gallon of stock…I have NEVER used more than 4 cups.  Also, chicken stock is usually what I have on hand so I substitute that for the vegetable stock called for in the recipe. I use my wonderful immersion blender to puree the soup instead of working with batches in a conventional blender…saves a lot of time.  
I remove the left over pork roast from the refrigerator when I begin chopping the vegetables so the meat can come to room temperature.  The roast is still so moist I don't want to dry it out by reheating.  I will slice the meat just before assembling the sandwiches. As for the rest of the sandwich…I am using Torta Sandwich Rolls from La Brea Bakery.  I get these at CostCo in a package of ten and they are my backup to the rolls from Acme Bread Co.  The Torta rolls are not pre-split & I warm them in the oven for 2-3 minutes. A small amount of  Homemade Mayonnaise (made yesterday for last night's salad dressing) & a slice of crisp butter lettuce are the only other trimmings this sandwich needs…the pork roast itself is packed with flavor from all of those herbs so I like to keep it simple.
[ Footnote:  Today turned out to be the hottest day of the year!!  Our tiny waterfront town of Belvedere, which normally enjoys temperatures in the low 70's, saw the mercury rise to the mid-90's.  Needless to say…NOT an evening for soup!  I finished making the soup earlier in the day and let it cool completely.  I put it in a large plastic container & placed it in the freezer for a future dinner.  Tonight we dined out on the deck where we enjoyed the roast pork sandwiches, sliced (cold) Granny Smith apples & Fresh Lemonade Spritzers…for this refreshing drink, simply follow the Fresh Lemonade recipe from Ina Garten & then add a splash of sparkling mineral water and a lemon slice for garnish. ]
TUESDAY |
Okay…It was still HOT today.  I really struggled with canceling this dinner plan, but…those mushrooms were so BEAUTIFUL!  My enthusiasm for the dinner waned throughout the HOT afternoon & then Michael called to let me know his flight from LA was delayed…a sign we should get take-out.  But those amazing mushrooms were calling to me.  To make a long story short…I followed the  Mushrooms with Soy Butter to the letter & it was the MOST amazing dish!  Served with the  Garlicky Greens !!  I thought about changing the mushroom recipe to reflect more of a pairing with pasta (read: more balsamic than soy)  but I adhered to my rule of going with the RECIPE on the first try.  I was rewarded with the most amazing taste "carnival".  My family is a group of meat-eaters and this mushroom dish satisfied us all…MORE than my expectations.  This dish will be on the menu again & again!  NOTE:  I used a variety of brown button, shiitake, chanterelle & shimeji mushrooms…by far the best were the CHANTERELLES, but they all worked lovely together…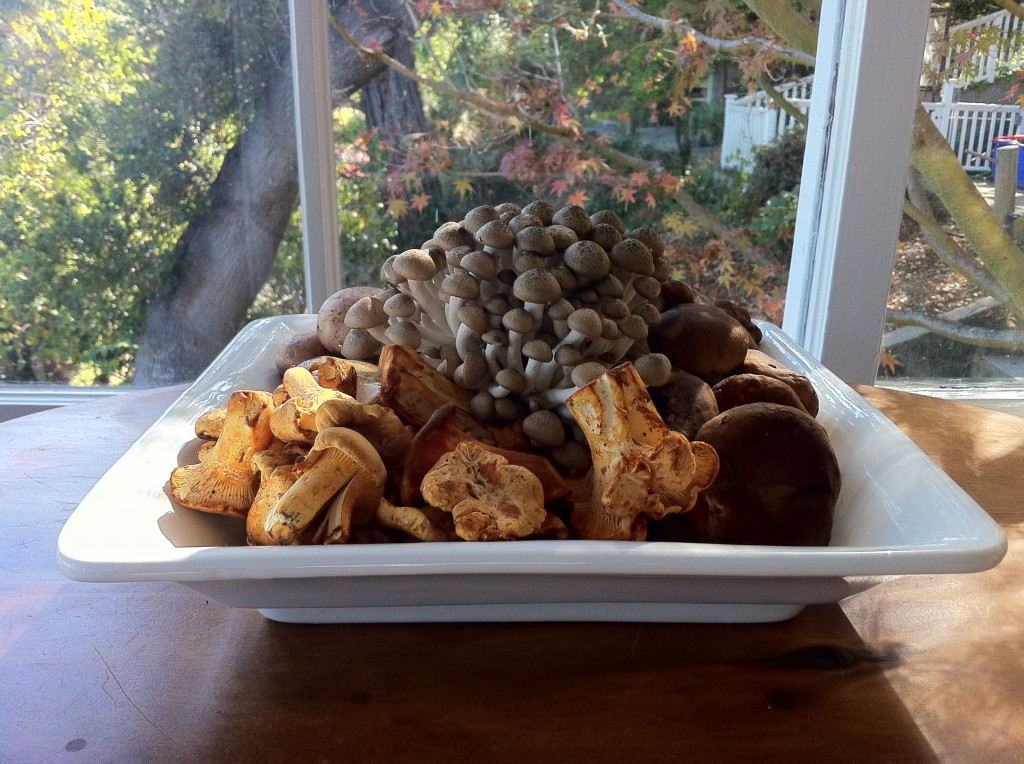 WEDNESDAY |
Today was CRAZY as is any day before a three-day horse show.  Thank heavens I started this ragu yesterday!  I put the meat ragu (which I made yesterday) into the slow cooker this morning on LOW and let it go all day.  Meanwhile…Horse laundry, show clothes to be pressed, hay bales to be loaded and little Mallory's jump lesson!!  The FOG made a triumphant return and we are finally cool!  I am so tired writing this but also so relieved. I made SOOOO much of this entree…I think we will be eating this still when we return on Sunday (NOOOOO it can't be….I have something SPECIAL planned for Sunday).  Michael, Max & Mallory can survive on this heavenly pasta dish in our absence.  My alarm is set for 3am so I must say goodnight!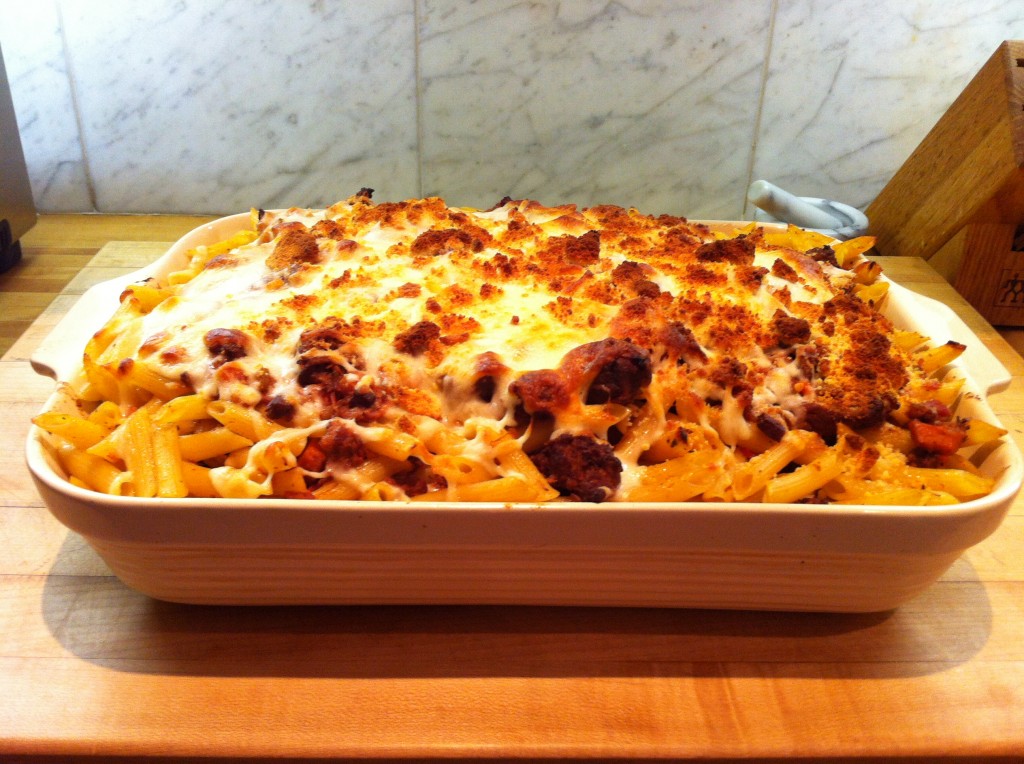 See you next week & Happy Dining!
THURSDAY & FRIDAY |
Well, I am off to another horse show with Madison.  This is the LAST show of the long competition season.  Luckily, we don't have far to travel…we are heading to the very "horsey" town of Woodside, California…just South of San Francisco.  Mallory is joining Daddy & Max in "holding down the fort" at home this weekend.  The Dinner Concierge may be closed for a few days but there are leftovers…plenty of Baked Ziti as well as that Butternut Squash soup I made on Monday and put in the freezer.  I also have a strong suspicion that a pizza may find its way to our house sometime before Maddie & I return on Sunday:)  Speaking of Sunday…I have a super special dinner treat to share so be sure to check back with The Dinner Concierge for next week's menu!
Have a GREAT week & Happy Dining!