WEDNESDAY
Hot Open-Face Roast Beef Sandwiches  |   Fresh Carrot Sticks with Laura Chenel Goat Cheese Ranch Dip
♣   ♣   ♣
Some days just don't go as planned…that was today in our little corner of the world.  Michael needed to fly to Southern California on business & won't be coming home until later tonight;  Maddie's horse, King, was supposed to have undergone surgery today but that was postponed until Friday;  AND…I had planned on spaghetti carbonara for dinner this evening…NOT going to happen.
We had all the leftovers to make these wonderful hot sandwiches, not to mention that AMAZING dip/dressing and, to be perfectly honest,…my kids love a pasta carbonara for breakfast.  The carbonara is now slated for this Sunday's breakfast when, as I found out today, we will be entertaining a few teen-age, sleep-over guests.
As for tonight…it is so easy!!
The left-over roast gets cut on the deli slicer & piled on a plate.  A few rustic rolls, some horseradish & Dijon mustard, together with the re-heated Mushroom Sauce from last night, round out the provisions for this hot sandwich…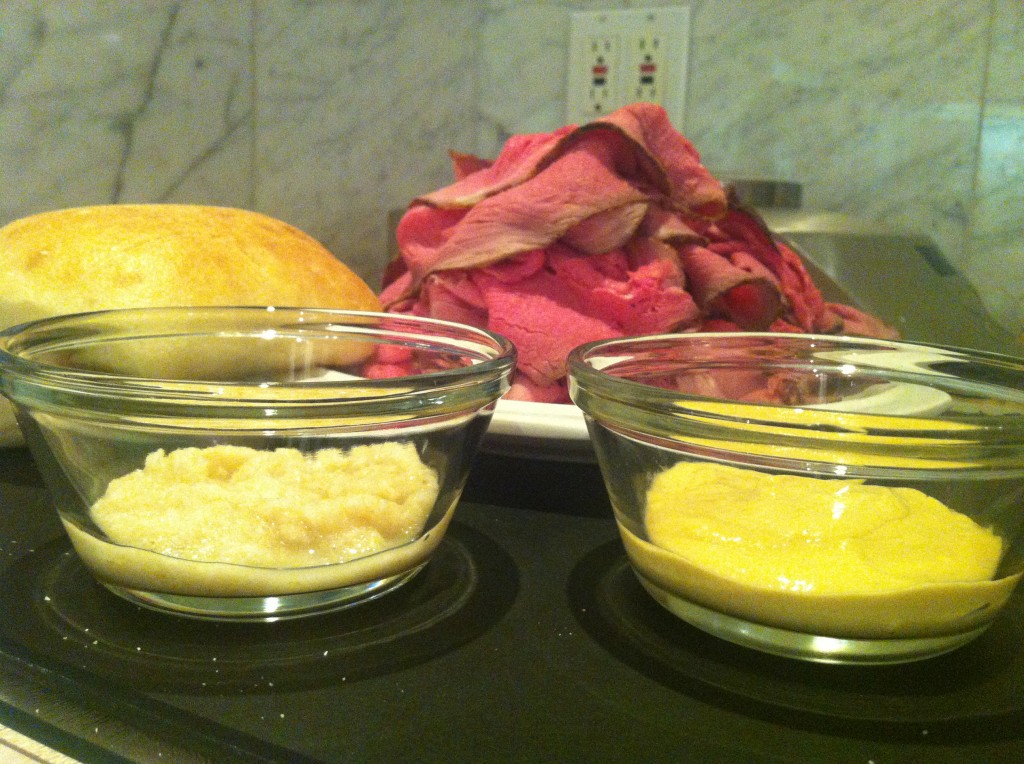 Slice the sandwich rolls in half.  In a skillet, over medium-high heat, melt 1-2 tablespoons of butter (depending on how many rolls you have).  Place rolls, cut-side down, in the skillet and cook until golden brown.  Remove rolls from skillet and place ½ a roll on each plate. Spread each roll with a bit of horseradish & mustard (depending on preference, Max takes both…Mallory, neither) and then pile 3-4 roast beef slices onto the bread.  Top with a generous serving of gravy…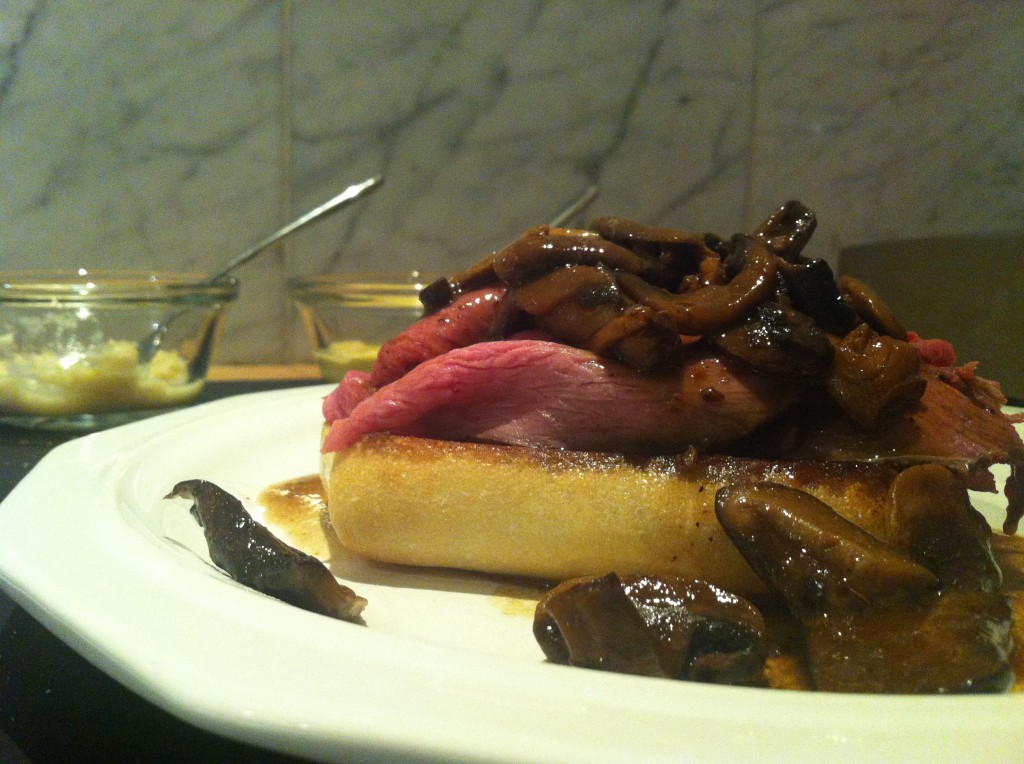 Some recipes call for re-heating the roast beef in the microwave or otherwise.  I DO NOT do this.  The roast beef is so perfectly cooked, re-heating would only "cook" it further.  After slicing the meat, I let it come to room temperature while making the rest of the dinner.  Placing the meat slices on grilled bread & topping with hot gravy results in warm, but not overcooked, meat.
Cold, crisp carrot sticks & the left-over dip round out this simple, week-day meal.