SUNDAY
Roast Chickens  |  Dijon Brussel Sprouts  |  Applesauce with Rosemary & Brown Butter
MONDAY
Parmigiano Pumpkin Soup  |  Seasonal Fruit
TUESDAY
Chicken & Wild Rice Salad  |  Leftover Parmigiano Pumpkin Soup
WEDNESDAY
Stuffed Pumpkin  |  Mixed Green Salad  |  "Witches' Brew"

THURSDAY
FRIDAY
Grilled Chicken Breasts with Sage Pesto  |  Baked Potato Chips
SUNDAY
Roast Chickens  |  Dijon Brussel Sprouts  |  Applesauce with Rosemary & Brown Butter
Sometimes, I just want simple roast chicken.  No fancy marinades or elaborate sauces.  Just moist, tender meat wrapped in crunchy, golden brown skin.  I learned how to roast a chicken by reading Alice Waters', The Art of Simple Food.  This recipe is really simple…for my family of five, I always roast two birds.
Thoroughly rinse birds, inside and out, & pat dry.  Rub the cavity of each bird with salt and then generously season the outside of the chickens with salt & pepper.  In a large roasting pan, add 3-4 tablespoons of olive oil followed by the chickens.
Cover the birds loosely with foil and refrigerate overnight, if possible.  About one hour prior to cooking, remove birds and allow to come to room temperature.  Preheat oven to 400°.  Place roasting pan, with chickens breast side up, into the oven and cook for 30 minutes.  Remove pan from oven and flip birds (breast side down) then return to oven and roast for 30 minutes.  Once again, remove birds from oven and flip (breast side up) one last time & return to oven for 30 minutes.  In her book, Alice Waters uses this technique to roast one chicken but for 20 minutes "up", 20 minutes "down", 20 minutes "up".  I find that in roasting the two chickens, 30 minute intervals work best.
When the chickens are done, remove the birds to a cutting board and let rest for 15 minutes before carving.  Be careful not to burn your fingers trying to steal a bite of that golden, crunchy, salty skin!
As I have said before, brussel sprouts are one of our favorite veggies so we have them often.  The trick is to vary the preparation so we don't get bored with them.  Last week we had the sprouts raw in a salad, tonight we will have them sautéed with some bacon & shallots…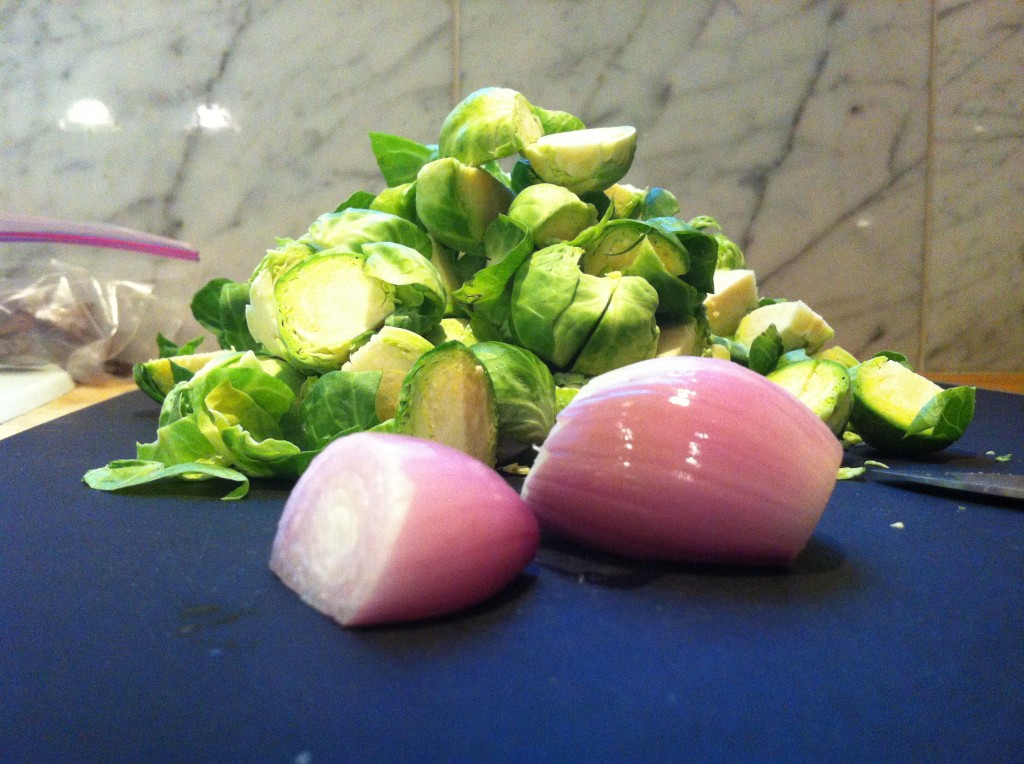 Sautéed Brussel Sprouts
1 shallot, peeled & minced
20 large brussel sprouts, stem ends removed & quartered
6-8 slices of bacon, diced
1 tablespoon Dijon mustard
Salt & pepper to taste
In a large skillet, cook the bacon to render the fat but do not overcook.  Bacon pieces should be on the tender side, not crisp.  Remove bacon pieces to a paper towel.
In the same skillet, containing the rendered bacon fat, add the minced shallot and cook, over medium heat, for 2-3 minutes.  Add the brussel sprouts and cook for 10 minutes, stirring often.  Add bacon pieces to the brussel sprouts & shallots, stirring to combine & reheat bacon.
Remove skillet from heat & toss the sprouts, shallots & bacon with the mustard.  Season to taste with salt & pepper.  Serve immediately.
As for the applesauce…ALL of us voted this the BEST applesauce we have ever tasted!  I believe the key to this sauce is the brown butter.  Seriously,  it tastes like you are eating a buttery apple pie without the crust.  This applesauce would be AMAZING as a dessert served warm with a scoop of vanilla ice cream!
♣  ♣  ♣
MONDAY
Parmigiano Pumpkin Soup  |  Seasonal Fruit 
This slow-cooker soup is so easy.  This is NOT the "pumpkin pie" variety of pumpkin soup.  The addition of garlic and parmesan cheese produces a savory soup with the texture of velvet…
Parmigiano Pumpkin Soup
2 tablespoons rendered bacon drippings (or olive oil)
1 large onion, diced
6-7 cloves garlic, minced
1 can (28 oz.) pure pumpkin
2 quarts of a rich, homemade chicken stock
¼ teaspoon ground nutmeg
1 teaspoon sea salt
¼ teaspoon ground white pepper
½ cup whipping cream
1 cup freshly grated Parmigiano-Reggiano cheese
Chopped fresh parsley for garnish
In a skillet heat the bacon drippings (or olive oil) over medium heat, add the onion and sauté until just tender.  Add the garlic and cook until fragrant, about a minute.
Add the pumpkin, stock, nutmeg, salt & pepper and bring to a boil.  Transfer mixture to a 5-6 quart slow cooker, cover and cook on high for 3-4 hours or 6-8 hours on low.
Whisk in the cream and cheese and heat for five  minutes.  Serve in individual bowls with a sprinkle of chopped parsley.
[  This recipe is adapted from a recipe appearing in the cookbook, Art of the Slow Cooker, by Andrew Schloss  ]
The first fresh pomegranates of the season, together with sliced Honey Crisp apples and a few figs completed this easy dinner.
♣  ♣  ♣
TUESDAY
Chicken & Wild Rice Salad  |  Leftover Parmigiano Pumpkin Soup
Using the leftover chicken from Sunday night's dinner made this dish super easy & fast tonight.  While the rice cooked (and the soup reheated) on the stove, I simply diced the chicken meat, along with some celery, onion & green apple and prepared the vinaigrette… (tip:  add a squeeze of fresh lemon juice to the diced apple and toss to coat…this will keep the apple from turning brown)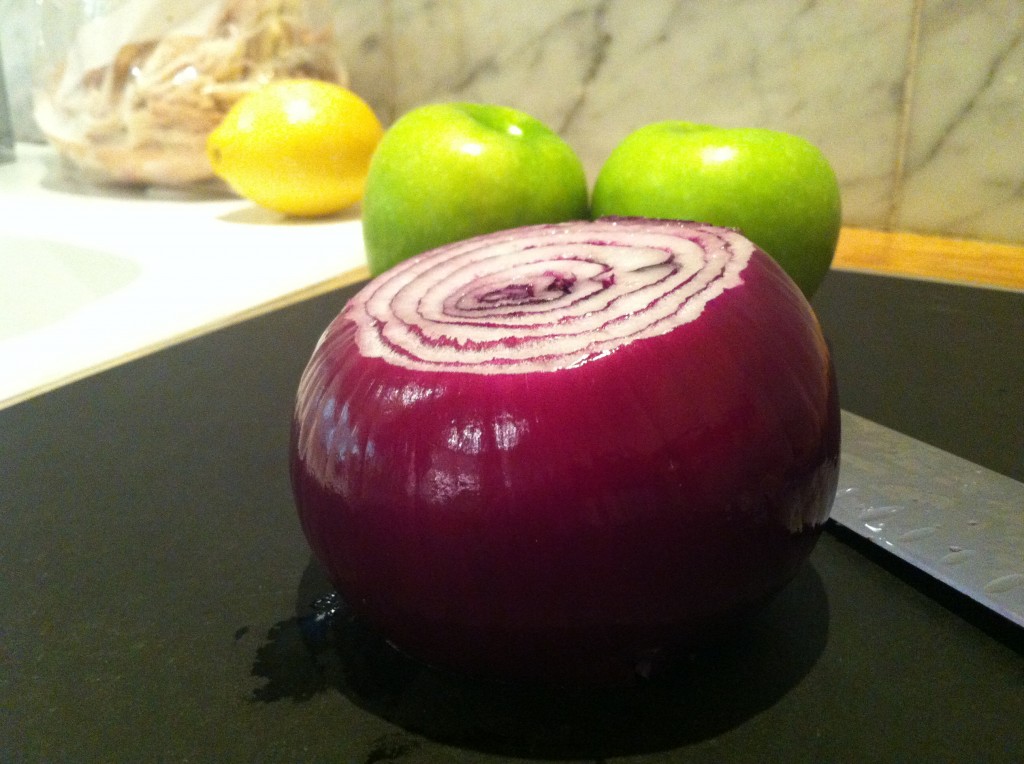 When the rice was finished, all I had to do was toss all of the ingredients with the vinaigrette.  [ Note:  I also added some dried cranberries ].
♣  ♣  ♣
WEDNESDAY
Stuffed Pumpkin  |  "Bloody" Chutney  |  "Witches' Brew"

The inspiration for this dish came from a recipe entitled "Pumpkin Stuffed with Everything Good" at Epicurious.com.  I will have to try that recipe at some point as it has received so many favorable reviews but I have to admit I was a bit put off by all of the cream and cheese called for in the original recipe.  As a whole, the recipe leaves quite a bit of room for creativity.  My version combines ground pork sausage with sage, Pugliese bread, celery & onion.
First, start with a beautiful pumpkin (look for a shape that will act well as a serving piece…low and wide, rather than tall and skinny)…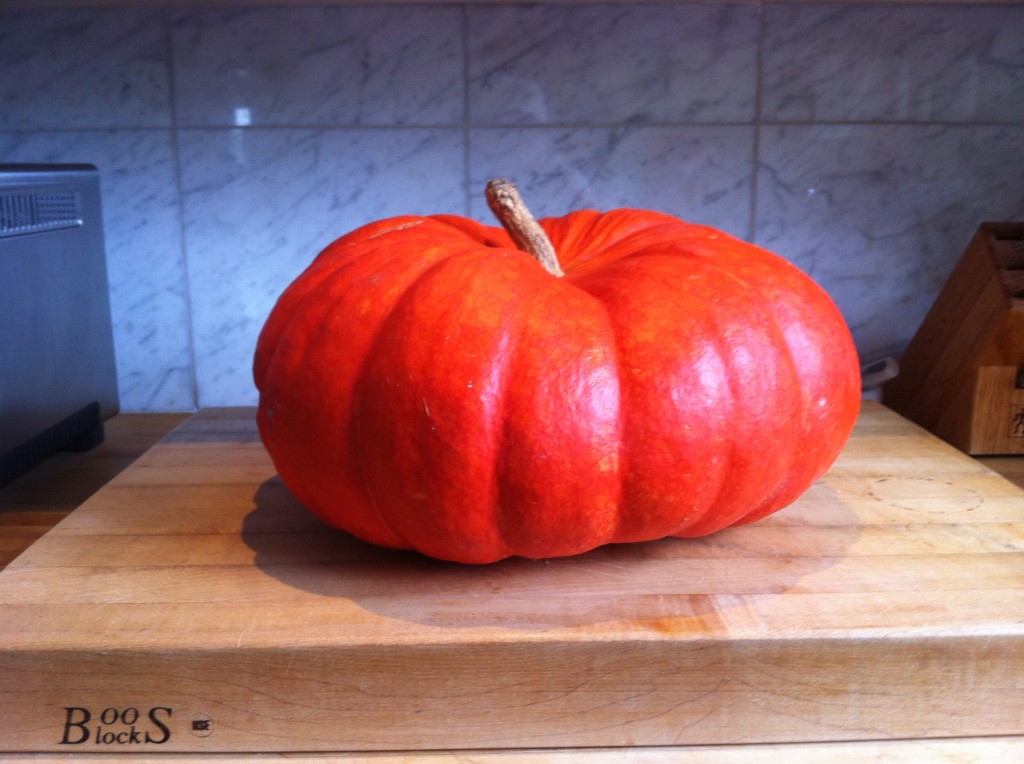 Carefully, carve out an opening around the stem of the pumpkin & thoroughly clean out all stringy fibers and seeds.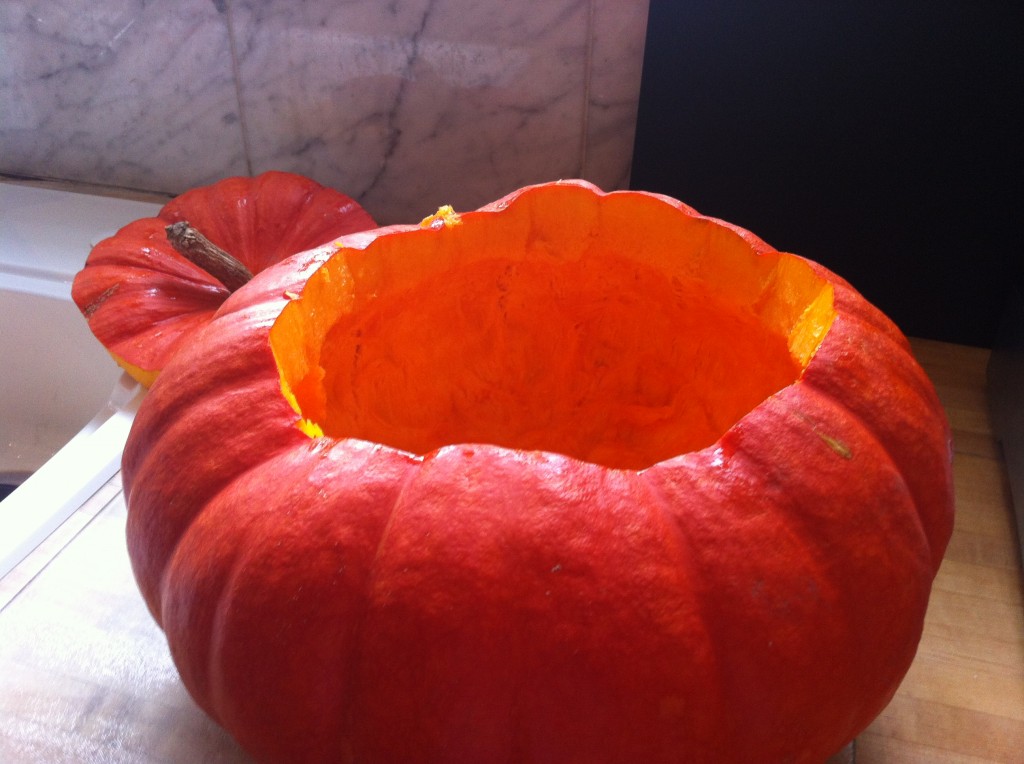 Generously salt & pepper the cavity of the pumpkin and set aside on a cookie sheet covered with parchment paper.
[Note: Two or three days before you prepare the stuffing, cut up 2 Pugliese breads into one-inch cubes and spread the cubed bread out on a jelly roll pan.  Allow cubed bread to become stale.] 
Make the stuffing:
Stale bread cubes from 2 Pugliese breads
3 lbs. ground pork sausage with sage (or other mild pork sausage)
1 stick of unsalted butter
2 medium yellow onions, peeled & diced
4 celery ribs, washed & diced
3-4 tablespoons poultry seasoning
salt & pepper to taste
Preheat oven to 350°
Brown the sausage in a large soup pot or dutch oven over medium heat and then, with a slotted spoon, remove the sausage to a separate bowl and set aside.
Add the butter to the pot containing the sausage drippings and when the butter has melted add the chopped celery and onion.  Cook until the vegetables begin to soften.  Remove from heat and add stale bread cubes, mixing well.
Add sausage and any juices from the bowl to the bread and vegetable mixture stirring well to combine.
Gradually add boiling hot water to the stuffing mixture until very moist but not mushy.  Season with poultry seasoning, salt and pepper (using more poultry seasoning if necessary).
Scoop stuffing into reserved pumpkin and cover with pumpkin "lid".  Cook for 90 minutes.  Carefully transfer stuffed pumpkin to a serving platter.  Scoop & serve!

A little something to add to the Witches' Brew…a "skeleton hand" ice-cube!  SOOO simple. Here's how…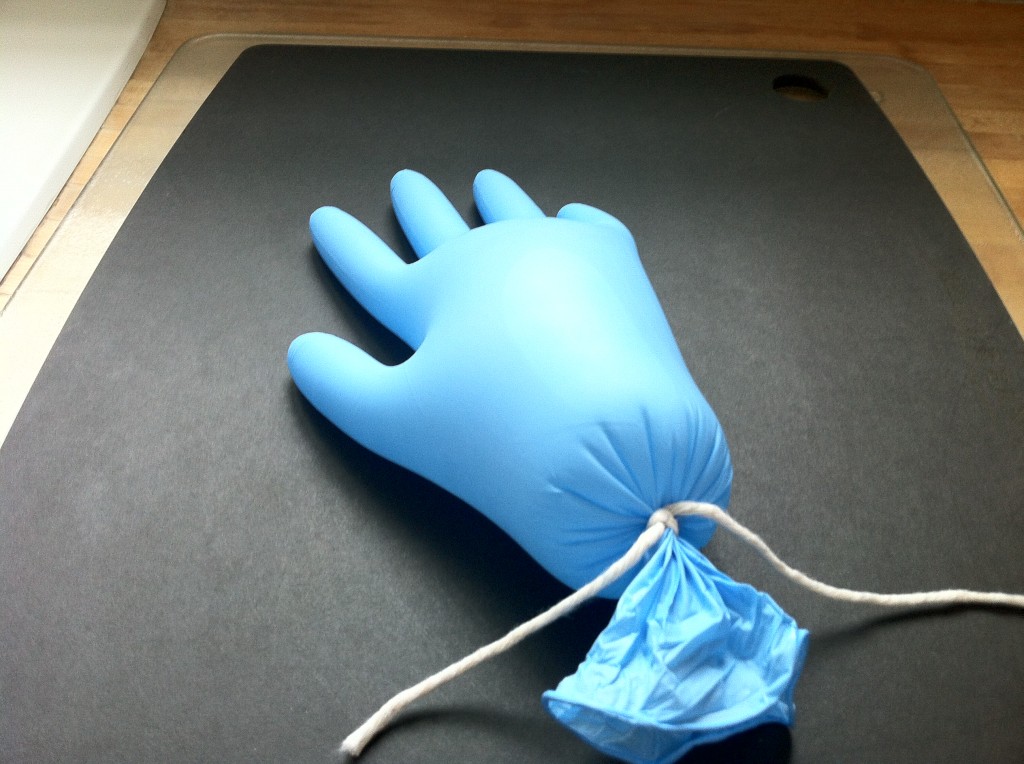 Fill a non-powdered, latex glove with water & tie with kitchen string, leaving long string ends.  In the freezer, tie the glove (in a hanging position) to one of the freezer racks or lay flat.  Freeze until completely hardened.  To remove the glove, run the frozen "hand" under hot water for a few seconds and then peel off & discard the glove.
Here is our frozen "hand" chilling the Witches Brew…
To make the "Bloody" Chutney…simply combine equal parts of the Simple Cranberry Sauce & the Cranberry, Fig & Pinot Noir Chutney (both of which I had made in the last week and canned).
♣  ♣  ♣
THURSDAY
We have a tradition in our family…on your birthday you get to pick WHATEVER you want for dinner.  Max's top pick - grilled Korean steak and Madison's - "Carpet Baggers" (grilled filet mignon stuffed with fried oysters and topped with bernaise sauce). For Mallory…it's tacos.
Mallory is our youngest…our free-spirit child.  Mallory is happy.  As a baby, she never cried much.  Unlike her brother and sister, she would wake in the morning and quietly amuse herself in her crib with a stuffed animal.  I would walk into her nursery and she would greet me with a huge smile.  Now, at twelve, she is still the same.  First to get up in the morning and always happy.  Unlike the rest of us, Mallory doesn't get bothered by much…she just doesn't see any point in that.  When she sends a text from her phone it always has more emoticons than words.
As for her palate, well…let's just say that it is uncomplicated.  Here is Mallory as a baby enjoying her favorite food (bread):
Bread is still one of her favorites, along with macaroni & cheese (from a box of course), hot dogs, peanut butter & jelly sandwiches, salami…you get the idea.  She does, however, dutifully eat the dinners I prepare (well, some…never all).  So tonight, we all dined on tacos and Mallory finished ALL of her dinner!
♣  ♣  ♣
FRIDAY
Grilled Chicken Breasts with Sage Pesto  |  Baked Potato Chips
You will see that the recipe at Epicurious.com is actually for a grilled chicken sandwich.  Given the last couple of dinners (stuffed pumpkin & tacos), I decided to deconstruct the sandwich and leave out the bread.  The result was an extremely simple & healthy dinner packed with a ton of flavor (thanks to the pesto)…
The baked potato chips and sliced apples made this a perfect, casual Friday dinner…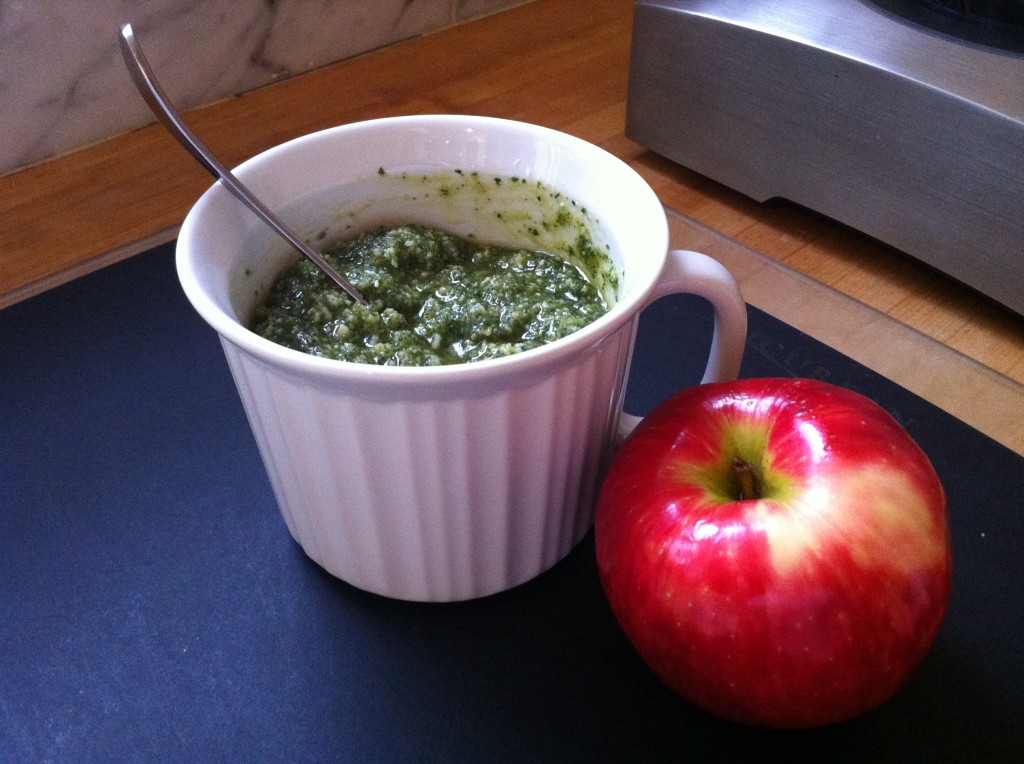 [ Note:  in the recipe at Food & Wine.com, these chips were served with a "Fonduta" which we did not make…but it looks like a wonderful dish! ]
Have a great weekend & Happy Dining!!!