SUNDAY
Grilled NY Strip Steaks | Oven~Roasted Potatoes | Broiled Green Beans | "Magic Sauce"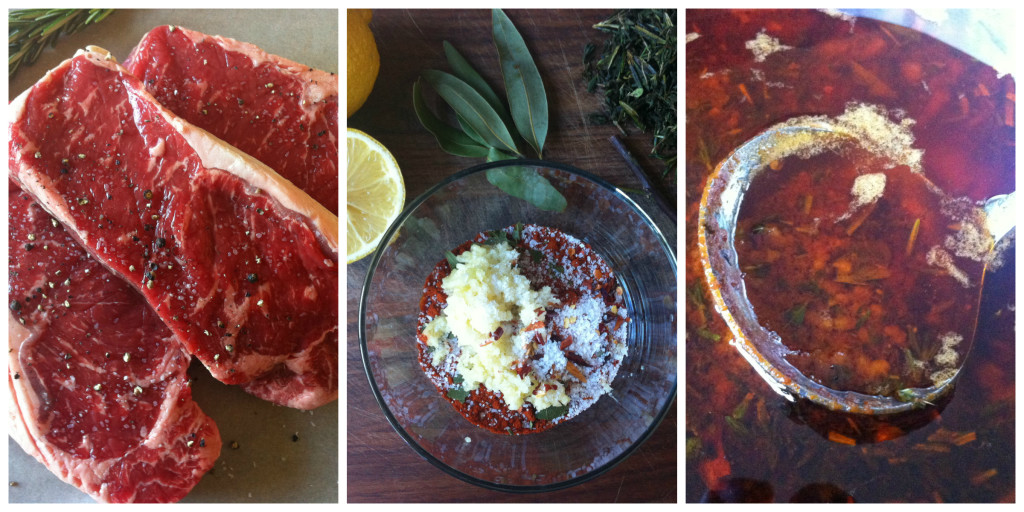 I am having a bit of trouble getting my bearings lately. I have just finished putting away the silver and china used for our Thanksgiving dinner and the last traces of turkey soup sit in the refrigerator but the calendar already reads December 1st and the weather here in the Bay area is, well, anything but frightful…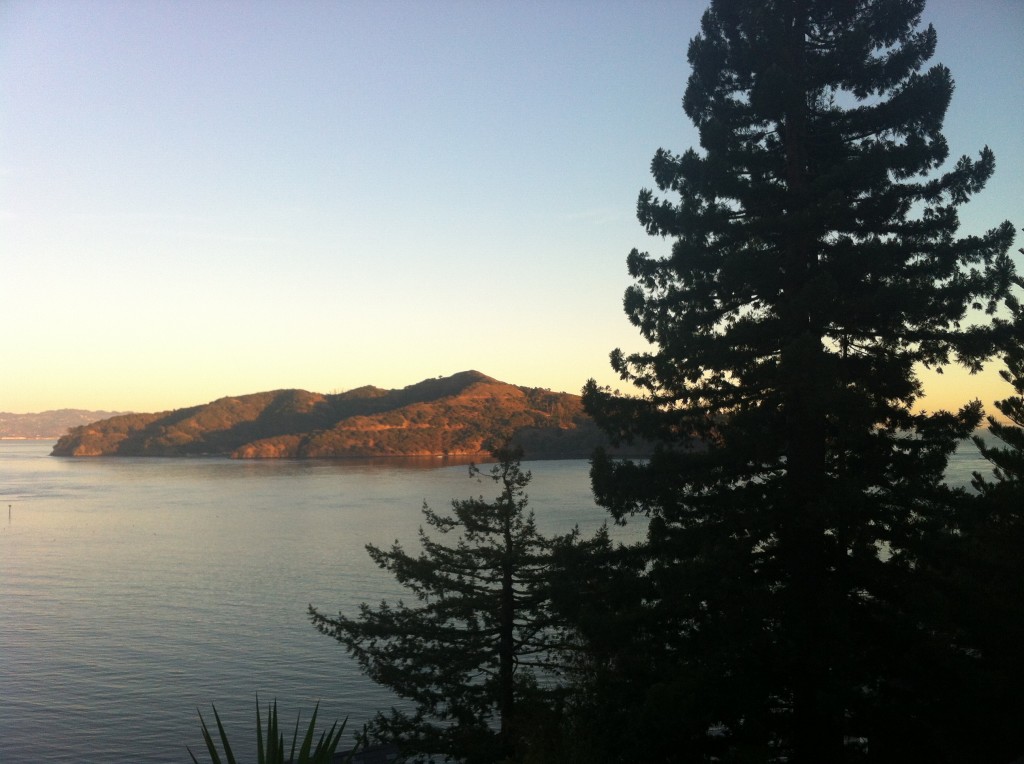 French doors were open today letting in lots of warm sunshine and Christmas carols played in the kitchen as I prepared a hearty supply of both chicken and beef stock. The above photo was taken as the last bit of sunlight illuminated Angel Island, the water in between where I was standing on our deck and the Island was speckled with sailboats only an hour before. We have lived here in Northern California for nearly thirteen years now, but, after living the first 20+ years of my life on the East coast, I still have a bit of trouble matching up distant memories of "the season"…hours of sledding, mittens drying on steaming radiators, frozen fingers wrapped around warm Christmas cookies, just out of the oven…with seemingly endless sunshine and mild temperatures, even in December.
Christmas nostalgia aside, I must confess to being a fan of Bay area weather for the other eleven months of the year and, never having to put your grill away for the winter is a bonus. Having our fill of soup & sandwiches for the last couple of days, this evening's steaks, seasoned simply with coarse sea salt and freshly ground black pepper were wonderful…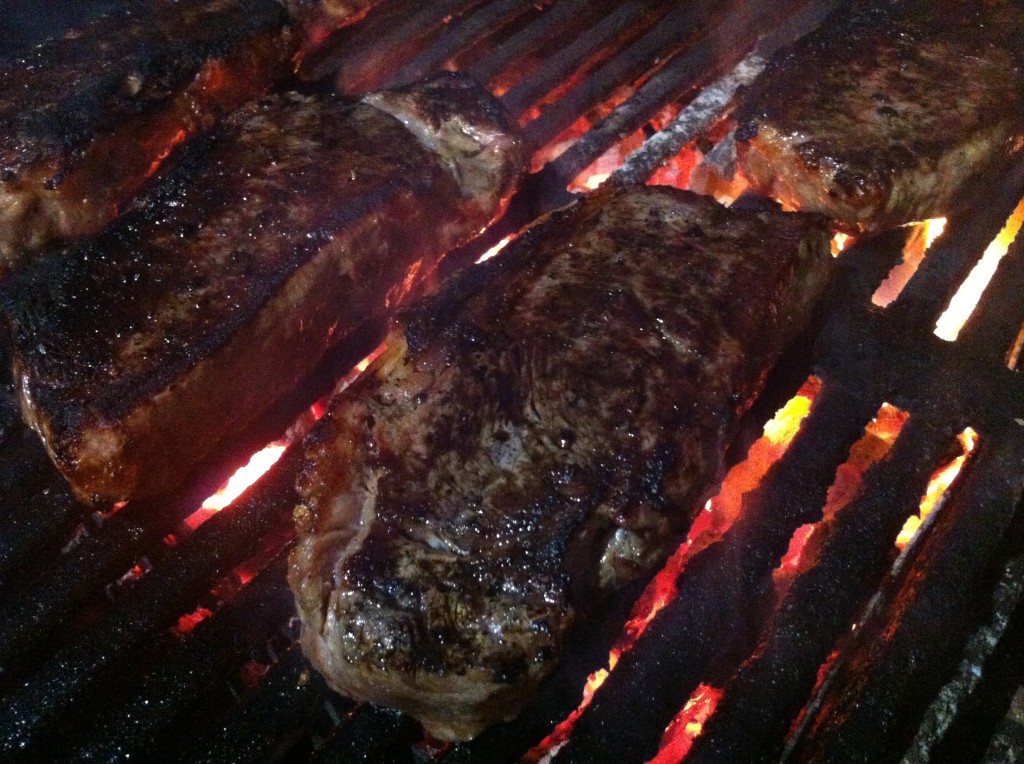 Baby red potatoes, diced and tossed with a bit of olive oil, sea salt and pepper, then roasted in the oven until golden brown, together with green beans, seasoned in the same fashion and broiled until just beginning to blister were served alongside. But, what really launched this meal to stardom was the sauce. An oil infused with the flavors of rosemary, oregano, thyme, crushed red pepper, garlic, lemon, bay leaves and sweet paprika…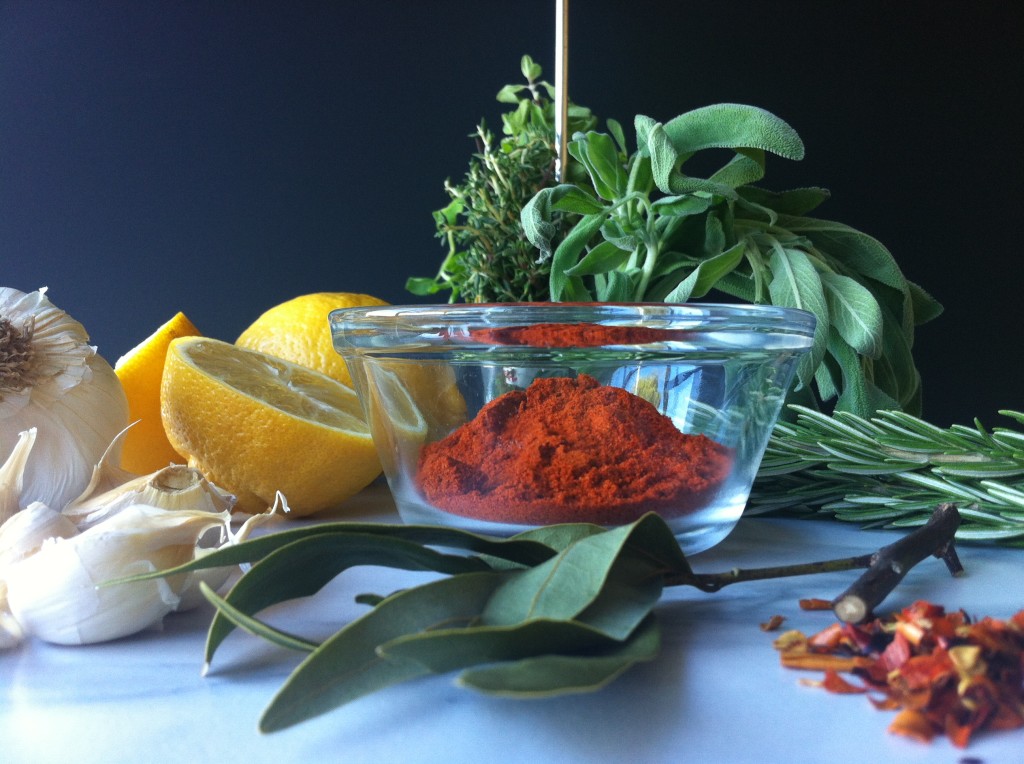 The end result is a complex sauce with layers of flavor. Bruising the herbs, using a mortar and pestle, rather than mincing with a knife, helps to release their flavor and adds to the overall texture of the finished sauce…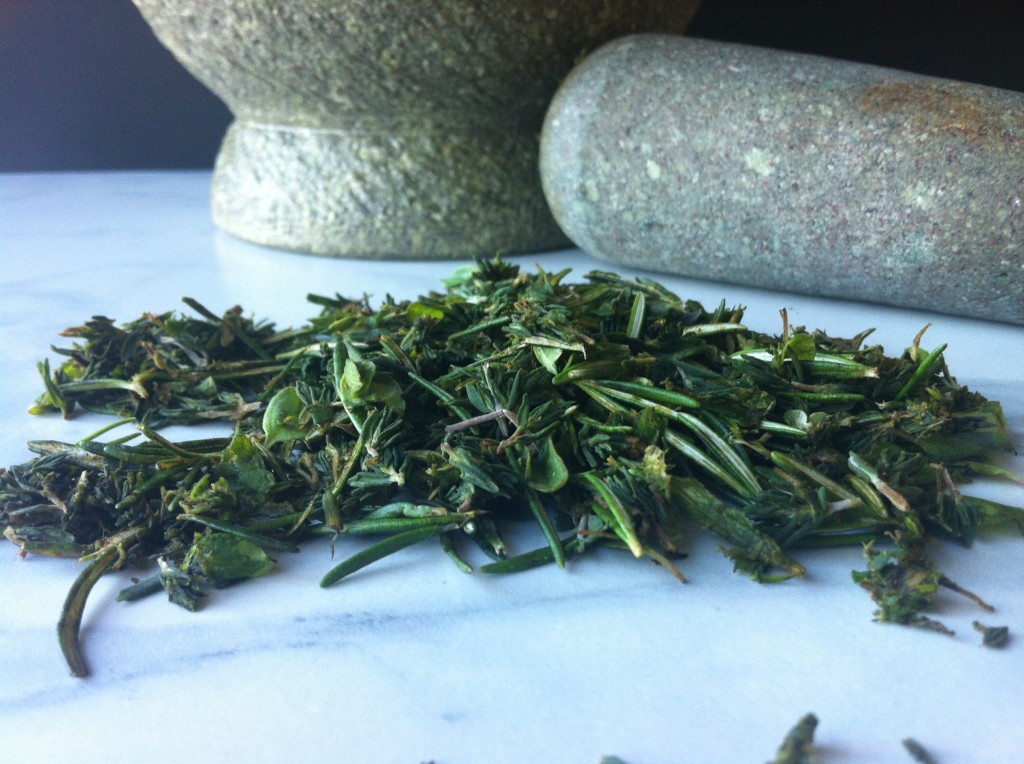 Sweet paprika gives the sauce a beautiful red hue…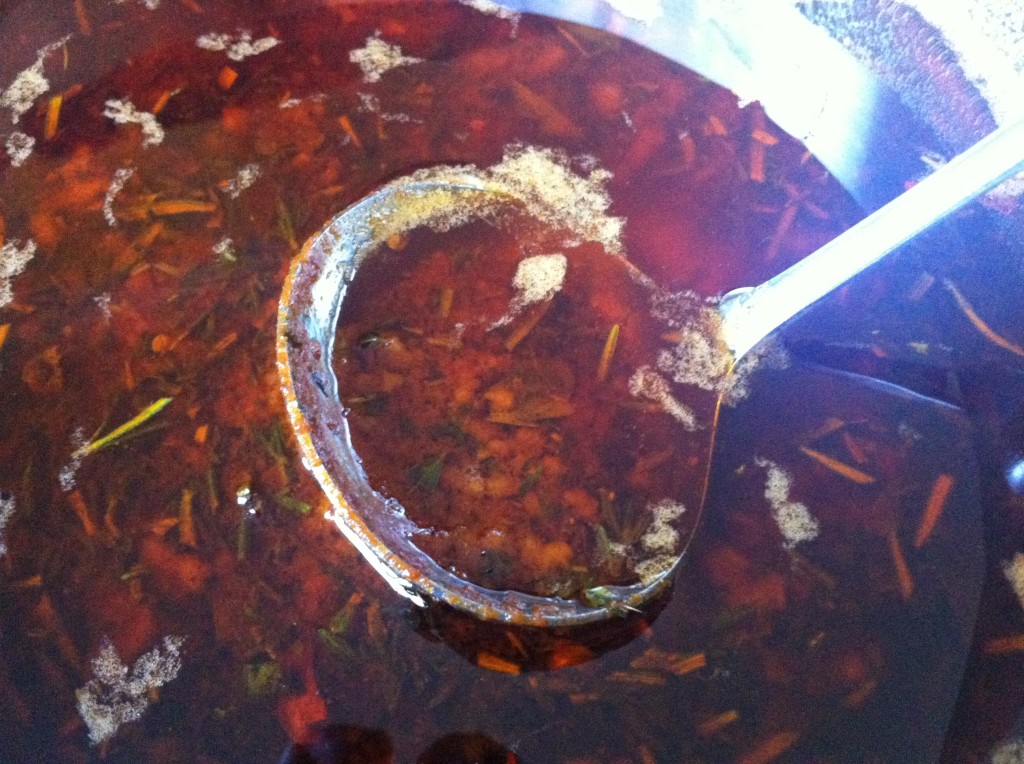 I prepared a triple batch of this "Magic Sauce" on the day before Thanksgiving and, since then, I have drizzled it over a frittata for Thanksgiving breakfast, used a bit as a topping for a baked potato for lunch and this evening the children drizzled it over their oven~roasted potatoes, I put some on my green beans and Michael enjoyed a bit as a finishing sauce for his steak. It has become a fast favorite!
Magic Sauce
2013-12-02 18:51:45
Herbs and spices transform simple olive oil into a sauce you will want to drizzle over everything.
Ingredients
1/2 cup extra~virgin olive oil
1 teaspoon fresh rosemary leaves
1 teaspoon fresh thyme leaves
1 teaspoon fresh oregano leaves
2 teaspoons sweet paprika
3 medium cloves of garlic, pushed through a garlic press
1 crumbled bay leaf
pinch crushed red pepper flakes
1/4 teaspoon fine~grain sea salt
1 tablespoon fresh lemon juice
Instructions
Warm the olive oil in a saucepan over medium~low heat until it is just hot. When hot remove from heat.
While the oil is heating, and using a mortar & pestle, lightly pound the rosemary, thyme and oregano.
Stir the paprika, garlic, bay leaf, red pepper flakes, and salt into the oil. Then add the herbs and lemon juice.
Notes
The overall flavor of the sauce will continue to develop over a few days.
Store the sauce in a glass jar with a tight-fitting and refrigerate for up to 1 week. Bring to room temperature or gently warm before using.
Adapted from 101 Cookbooks
THE DINNER CONCIERGE http://thedinnerconcierge.com/
Our Sunday dinner plate…